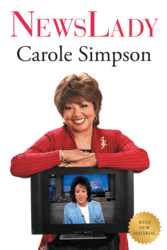 I talk about the 'dirty little secret' in black America. We are prejudiced against each other.
Boston, MA (PRWEB) July 25, 2012
Upon learning that those following in her footsteps were experiencing many of the racist and sexist incidents she faced down in her four decades-long career as a broadcast journalist, former ABC News Weekend Anchor Carole Simpson felt compelled to write her memoirs. NewsLady recounts Simpson's trailblazing career, the obstacles she overcame and the animosity that made her leave it all behind. Now, previously unpublished material has been included in the soft cover version of her book, in which she points out the problems she had with women and other black employees.
"There are some controversial aspects to this new version," says Simpson. "I talk about the 'dirty little secret' in black America. We are prejudiced against each other."
The NewsLady re-release expands on the behind-the-scenes look at Simpson's life, painting a dim portrait of the prejudices against her race and gender that complicated an already difficult climb in the competitive television news industry. Additionally, she gives her take on the controversial rise and fall of Max Robinson, the first African American to anchor a major nightly newscast. Simpson reflects on her time working with Robinson, who died of AIDS at age 49. "This really may be one of the few things written about Max Robinson since his death," says Simpson.
Despite the final insults she received at the hands of now-deposed ABC News President David Westin, which caused her to leave her 24-year stay at the Disney-owned company, "NewsLady offers remarkably frank advice for others to help avoid the problems she surmounted. Simpson covered everything from presidents and politics, to the federal government and America's social problems. She paved the way for other women and minorities to gain opportunities in the television news industry, serving as the first woman to broadcast radio news in Chicago and the first African American woman to become a correspondent and anchor for a major network.
Candidly honest, reflective and revealing, NewsLady gives readers straightforward strategies in dealing with adversity in the workplace in words laced with experience and courage. Simpson's is a story of triumph over great odds in the news and in the trenches.
"I recount events in this book that show how many tried and how many succeeded in doing me harm," says Simpson. "But before, during and after my television career, I was able to overcome and prospered. I was blessed."
###
About the author
Carole Simpson is a former TV anchor and senior correspondent at ABC News, where she won three Emmys and many awards for her work and philanthropy. She has 14 honorary degrees. Her career in broadcast journalism spanned 40 years, during which she reported on the release of Nelson Mandela from a South African prison and became the first woman or minority to moderate a presidential debate. After her broadcast career at ABC ended in 2006, she was named Leader in Residence at Emerson College's School of Communication in Boston, where she is a full time journalism faculty member and writing coach. Simpson also maintains a blog and website, called Think About It at http://www.carolesimpson.com. She is a graduate of the University of Michigan and did graduate work at the University of Iowa. She and her husband, Jim Marshall, live in Boston and have a home on Martha's Vineyard.
MEDIA CONTACT:
For review copies or interview requests, contact:
Jessica Kiefer
Tel: 317.602.7137
Email: jkiefer(at)bohlsengroup(dot)com