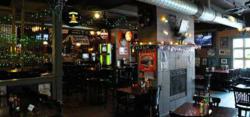 One of the reasons we changed our menu was the demand from our customers for some of our new sandwiches to be available all the time
Milwaukee, WI (PRWEB) July 24, 2012
McBob's Pub and Grill, a favorite Irish pub in Milwaukee, is serving up a variety of new menu items for breakfast, lunch and dinner.
Select customer favorites from the "Sandwich of the Month" specials received a promotion to permanent menu items.
"One of the reasons we changed our menu was the demand from our customers for some of our new sandwiches to be available all the time," says Christine McRoberts, owner of McBob's Irish Pub and Grill. "We offer a sandwich of the month and the most popular ones made it on the new menu. "
Some of the new items include the Highlander burger topped with corned beef, swiss cheese, raw onion, horseradish mustard, lettuce and tomato and the Hunter burger topped with 1/2 a brat, sauerkraut, fried onions, sharp cheddar cheese and brown mustard. Find more information about these sandwiches on McBob's newly launched website, http://www.mcbobs.com.
Unique items were also added to the breakfast menu, such as the Bacondict, an eggs Benedict for the bacon lover. This hearty breakfast includes bacon bread, a bacon Alfredo sauce and crumbled bacon on top.
Dinner is served every Sunday from 4 p.m. through 10 p.m., and now features a 3lb chicken dinner and open-faced prime rib served with American fries or mashed potatoes and gravy.
For more information, call (414) 871-5050 or visit http://www.mcbobs.com for details on upcoming events and featured monthly items including specialty pizzas, sandwiches and craft beer.
About McBob's Pub & Grill
McBob's Pub & Grill, a Milwaukee Irish pub established 25 years ago, expanded to provide more seating and patio dining. Continually improving services and customer awareness, McBob's recently launched a brand new website, which features a new menu and weekly dinner specials. McBob's also provides a shuttle service on game day. Make sure to ask about the Brewers home game shuttle-frequent rider card.