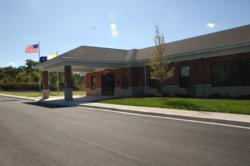 I believe the school has an excellent academic program to offer and the parents have been very happy, which of course attracts other parents.
Lemont, Illinois (PRWEB) July 24, 2012
A Lemont private school, Everest Academy, recently announced enrollment numbers for the upcoming school year with over 40% growth. The Catholic school began in 1996 and has seen continuous growth, especially since the completion of the new facility on Bell Road. "I believe the school has an excellent academic program to offer and the parents have been very happy, which of course attracts other parents", says Heidi Matelich, Admissions Director for the school. With almost all of last year's students returning, enrollment has jumped from 100 students to over 140 enrolled for the 2012-13 academic year.
Everest Academy educates students from preschool through 8th grade, beginning as young as three years old. Last year, the preschool students made up approximately one-third of the school's student population. However, this year many of the older grades have boosted their numbers as well, with local parents searching for stronger academics as their children approach high school. "Parents are always excited to learn that our curriculum is advanced and offers a variety of fine arts, language, and music programs" says Mrs. Matelich. As part of the regular curriculum, the school offers Spanish, art, drama, music, band and violin, and offers on-site extracurricular activities that include chess, martial arts, dance, Polish, art, choir and music lessons.
Molly Maher, who has been Dean of Students at Everest since 2009, also attributes the school's growth to the personal attention the students receive and to the vibrant school community. Average classroom size is between 15-20 students, and the school's goal is to keep classes near this size. When 28 kindergarten students registered for the upcoming year, the grade was split into two smaller classes. "We will have two kindergarten classes with about 14 students each in order to ensure individual attention," confirms Ms. Maher. "The students are our first priority, and it's a joy to see how much they love their school."
"We are excited to see the school grow," says Coleen Mast, Everest Advancement Director. "Everest Academy has so much to offer that we want as many children and families as possible to receive these benefits." In the current facility, which was completed in 2009, there is a capacity for approximately 200 students. The school campus includes 32 acres of land, and has plans for future expansion.
Everest Academy originally began as White Pines Academy in Naperville, and then moved to Lemont where they rented space at the Lithuanian World Center. Everest graduates have a strong record of acceptance into private high schools of their choice including Benet Academy, St. Ignatius, Providence, and Mount Assisi. Ms. Maher attributes graduates' success in high school to the rigorous academic preparation and small class sizes, which help them develop leadership, responsibility, and good study skills. The first reunion for alumni and former students is planned for later this summer.
Everest Academy is an independent Roman Catholic school in Lemont educating children from pre-kindergarten through eighth grade. The teachers and staff are dedicated to forming the whole child by providing the highest level of academics, by building strong character, and by preparing generous leaders ready to serve the community. If you would like to learn more about Everest Academy's approach to education, please contact Heidi Matelich at 630-243-1995.