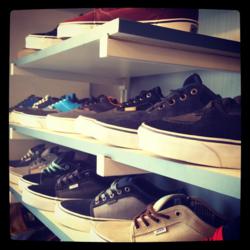 "The shoes are great, they're super comfy and supportive..."
Annapolis, Maryland (PRWEB) July 24, 2012
If there were to be one official shoe of skateboarding it would be Vans. Vans has, for the most part, always produced simple classic skate shoes. While doing this has definitely kept Vans true to their roots, it has also proved to be a bit of negative. As skateboarding has become more intense, with kids jumping down bigger things, and flip tricks becoming more complicated, it seems that a lot of Vans shoes don't offer the protection against impact and wear like some other companies do. All that may have been true of past Vans shoes, however Pure Board Shop has just got in brand new skate shoes from Vans that are proving to be something that can cope with today's level of skating.
Just one of the new shoes Pure has gotten in from Vans, is the AV Native. The AV Native American Low is pro skater's Anthony Van Engelen's newest pro model shoe. The shoe itself has a classic and simple look, as if it could be one of Van's original models released in the 70's or the 80's, such as the half cab or chukka. Although the shoe looks like it came out decades ago the feel of the show is definitely something from this decade. The insole is a nice thickness that still allows for board feel but doesn't give you the feeling that you're walking barefoot on straight concrete, unlike some of other Van's models. Also unlike many of other Van's models there is extra cushioning lining the whole inside of the shoe, which gives a very secure and comfortable feeling . Chris Aguirre, manager at Pure Board Shop, has tried out the AV Native Americans and tells us, "The shoes are great, they're super comfy and supportive, but they don't look like some fancy tech shoes, it looks just like a classic pair of Van's."
Another model now available at Pure is the highly anticipated Stage 4 shoe. The Van's Stage 4 features Van's newly invented Waffle Cup sole. Van's new Waffle Cup sole is a hybrid between a standard vulcanized sole and a cupsole. The idea behind this new type of sole is that you get a more supportive, protective sole that doesn't cut back on any board feel. The Shoe also features a completely smooth front end, that has not stitching or extra layers so there is nothing to get caught on or torn up. These two shoes mark a new era for Van's and for skate shoes in general. The Van's AV Native American and Van's Stage 4 are both on sale now at Pure Board Shop.