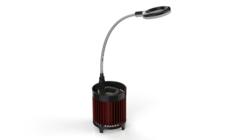 In a short period of time, Tellurex has transitioned itself from a first rate researcher to a thermoelectric product development and marketing company...Clyde McKenzie, Chairman and Chief Executive Officer
Traverse City, MI (PRWEB) July 25, 2012
Tellurex Corporation of Traverse City, Michigan announced on July 19th, 2012 that its Board of Directors has elected Craig Tremp as its President and Chief Operating Officer. Mr. Tremp joined Tellurex in 2011 as its Sales and Marketing Director. He moved to Tellurex from TWS Welding & Custom Fabrication where he was Controller, and his background includes leadership positions with Markit Golf, Maxwell Medals & Awards and The Century Group. Mr. Tremp lives in Traverse City.
The Tellurex board also named Catherine S. Collins as its Treasurer. Mrs. Collins adds this title to her responsibilities as Controller of the Company. She joined the company in 2011. She had previously been Controller at Skilled Manufacturing Aerospace, I&W Industries and Eagle Picher Automotive – Traverse City. In her dual positions at Tellurex, she will manage the company's accounting, tax, banking, insurance and all human resources functions. Mrs. Collins lives in Traverse City.
Norman C. Golm of Northport, MI was elected a Director of the company. Mr. Golm had retired from the Presidency of the American Division of Air International Thermal Systems, a Tier 1 supplier of automotive HVAC systems. Mr. Golm has been working with the senior managers of Tellurex as a mentor and in team development. He will continue to work with the company in that capacity.
The company's Chairman, Clyde McKenzie, noted "In a short period of time, Tellurex has transitioned itself from a first rate researcher to a thermoelectric product development and marketing company. Doing it fast and getting it right has taken great leadership. Craig and Catherine are terrific leaders, and they are part of a core team that extends to creative engineering under Richard Harmon and quality manufacturing under Jeff Howe. That team is just scratching at the surface of its potential."
Mr. McKenzie added, "Norm Golm just makes us smarter faster. There are risks of false starts in the process of change. Norm helps the team think smart and make good choices."
Tellurex Corporation is a Traverse City, Michigan-based company pioneering in thermoelectric applications. The company develops its own products and also collaborates with others to advance its technology and product design into medical testing equipment, wireless sensors, thermally controlled enclosures and a variety of other applications in both power generation and thermal management.
FOR MORE INFORMATION, contact Peter Schmitz (pschmitz(at)tellurex(dot)com)