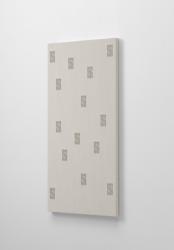 The ACP's advanced technology offers an attractive, inexpensive and convenient way to dramatically improve the sound of virtually any space.
Buena Park, CA (PRWEB) July 24, 2012
Yamaha's award-winning ACP Acoustic Conditioning Panels, which offer an ultra-thin, low-cost solution to transform any small space into a dedicated music room, are now shipping. Available at authorized Yamaha retailers nationwide, these versatile panels are already enjoying popularity among schools and houses of worship, as well as professional and amateur musicians and audiophiles.
"The ACP's advanced technology offers an attractive, inexpensive and convenient way to dramatically improve the sound of virtually any space," says Roger Eaton, Director of Marketing, Yamaha Band & Orchestral Division. "They're ideally suited for spaces that suffer from poor sound quality due to impaired acoustics in small or unusually configured rooms, like music practice rooms, small rehearsal rooms, home studios and consumers' audio rooms."
Yamaha's Acoustic Conditioning Panels are an ultra-thin, low-cost, easy-to-set-up solution that can transform any space, big or small, into a dedicated music room with high-quality, ear-pleasing sound. Measuring only three centimeters deep, the Acoustic Conditioning Panels are easy to install virtually anywhere, greatly enhancing sound clarity and balance from low to high frequencies, 80-4k Hz, in a process enabled by the panel's unique acoustic absorption and acoustic scattering properties.
Because the panels also work to scatter sound waves, they enable the creation of a space with clear, pleasant sound and minimal acoustic interference – conditions impossible to achieve with conventional sound-absorption materials. Previously, 100-cm-thick panels were needed to control bass sounds.* Now, Yamaha has achieved comparable results with panels that measure just three centimeters thick. This remarkably slim design also means that creating a dedicated music room no longer requires major installation work; simply attach the Acoustic Conditioning Panels to the walls with the fittings provided.
Shortly after their January launch at Winter NAMM 2012, the panels were named one of 2012's Best Tools for Schools by School Band and Orchestra magazine, receiving recognition as the "Best Concert Band/Orchestra Teaching Tool" for classroom use.
To learn more about the Acoustic Conditioning Panels, visit http://4wrd.it/ACP2N.
For more information, write Yamaha Corporation of America, P.O. Box 6600, Buena Park, CA 90622; telephone (714) 522-9011; e-mail infostation(at)yamaha(dot)com; or visit http://4wrd.it/YAMAHAUSA.
*Frequencies up to 80 Hz 3.
About Yamaha
Yamaha Corporation of America (YCA) is one of the largest subsidiaries of Yamaha Corporation, Japan and offers a full line of award-winning musical instruments, sound reinforcement and home entertainment products to the U.S. market. Products include: Yamaha acoustic, digital and hybrid pianos, portable keyboards, guitars, acoustic and electronic drums, band and orchestral instruments, marching percussion products, synthesizers, professional digital and analog audio equipment, Steinberg recording products and Nexo commercial audio products, as well as AV receivers, amplifiers, Blu-ray/CD players, iPod docking systems, home-theater-in-a-box systems and its exclusive line of Digital Sound Projectors. YCA markets innovative, finely crafted technology and entertainment products and musical instruments targeted to the hobbyist, education, worship, professional music, installation and consumer markets.