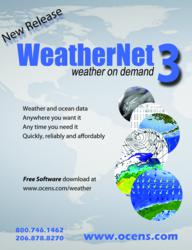 We wanted to take WeatherNet where no other weather service on the planet has gone.
Des Moines, WA (PRWEB) July 25, 2012
OCENS proudly announces version 3 of its award-winning WeatherNet Weather-on-Demand service. For a decade, WeatherNet has warehoused the most robust collection of weather, ocean and fishing data on the planet. Its patented WeatherNet data transfer engine continues to hold the preeminent position in the accelerated delivery of content across all satellite and wireless platforms. These twin pillars of content diversity and file transfer performance are now integrated together in unprecedented fashion with the launch of WeatherNet 3's Portal mode and the imbedded intelligence of its ingenious Content Wizard. The Content Wizard personalizes WeatherNet's vast content library to the specific weather, ocean and fishing interests of the individual user. It's Portal mode then stages selections for the rapid and reliable global delivery of these products via satellite or cellular, wired or wireless connections.
WeatherNet 3 transforms the product selection process by asking users for their general weather interests and then responding with definitive file suggestions for the given area of operation. No need to get specific, just let WeatherNet know whether you'd like GRIB or classic weather charts, text files or buoy products, fishing data or ice forecasts, satellite pictures or tide information…the list goes on. WeatherNet's intelligent content algorithm then merges users general interests with their present or proposed location, anywhere in the world, and the work by OCENS professionals who have mapped each one of the thousands of products in our large library. The result is a personalized list of products that satisfy the specific insights required for prevailing and predicted weather, ocean and fishing conditions.
"We wanted to take WeatherNet where no other weather service on the planet has gone," summarized Mark Freeberg, OCENS President and CEO. "So not only does it have the largest GRIB and classical weather and ocean data library and the most robust means of delivering that information, it can now skillfully help users find the products best suited for their needs and area of operation."
Just some of WeatherNet 3's new features and capabilities:

GPS integration
OCENS Positional Packet sharing with OCENS GRIB Explorer and MetMapper
Content Wizard and Portal mode
Content Preferences page to help you personalize GRIB model preferences
Content Box and integrated content search algorithm
Graphical user interface for selection of coastal, offshore, high seas, and MetArea text products
Buoy location map for choosing buoy(s) data feeds for your area of operation
Zoom capabilities on all content reference maps
Portal mode tracking of present geographic position relative to selected content
Satellite Dialer for auto-connect/disconnect to satellite phones and docking stations
Integration with Optimizer, webXaccelerators, and Iridium AxcessPoint
Refreshed interfaces and new icons for WeatherNet's legacy Basic and Library modes
Updated Basic mode 'Personalities'
Rapid access to Basic mode content 'Personality' switching and content options
New data classes (Tides) and sources (Terrafin)
Race and Tournament mode editions
Compatibility
WeatherNet 3 is compatible with Windows XP, Vista and 7, both 32 and 64-bit versions, and Apple Mac computers with virtual machine PC installations.
It is bundled with drivers and auto-dialing/disconnect capabilities for most serial, USB and Ethernet-based satellite telephones and will operate through any wifi, DSL, cable, or dial-up connection. It seamlessly works with the entire webXaccelerator line, including the Optimizer 102, and the Iridium AxcessPoint.
Pricing and Availability
WeatherNet 3 service is priced at $99 per year and is immediately available from OCENS and through OCENS dealer network. Content fees are charged on a per item basis with such fees starting as low as US 18 cents. WeatherNet prepaid content cards are available in $75, $250, $500 and $1000 denominations. 3-day no-charge demos of WeatherNet with full access to all WeatherNet content and features are available with each installation.
About OCENS, Inc.
OCENS data services and software merge easy-to-use applications with unprecedented content offerings to affordably deliver data to remote users around the world. Using patented pull-me technology, OCENS WeatherNet provides fast access to the world's widest selection of weather and ocean information. MetMapper transforms static weather chats to dynamic planning tools. OCENS Mail accelerates the transfer of email over wireless phone connections while OCENS XWeb provides fast wireless web browsing with up to a 10x improvement in speed through customer satellite equipment. These services have been bundled in strategic partnerships with some of the leading nautical software and satellite providers in the world such as Nobeltec, B&G, Expedition, Globalstar, Sailfast, GMN and Sattrans. OCENS augments its software core with satellite equipment and airtime solutions it provides in cooperation with all the major satellite providers.