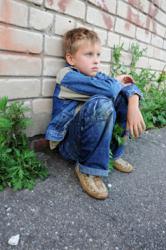 Victims of child sexual abuse suffer much more mental and health issues than non-victims, and die at an earlier age, even after extensive counseling.
Jacksonville Beach, FL (PRWEB) July 24, 2012
"Inside Jacksonville", a weekly radio show on station 96.1, produced by Renda Broacasting with host Jim Byard recently sat down with Stacy Pendarvis, of EmpowerToProtect and Donald J. Dymer, CEO and president of SingleSource background screening services to examine the obstacles that still exist to effectively prevent child sexual abuse.
In response to Byard's question, 'what are your thoughts about this whole Penn State situation?" Don Dymer answered, "the situation at Penn State reflected all of the typical characteristics of child sexual abuse that goes on all around us, from grooming the child to most importantly the people around the abuse, who saw or suspected the abuse and never said a word about it. At Penn State they apparently placed money derived from promotions, scholarships, etc. in front of child safety, and this type of strange justification goes on all around us. The irony is that ultimately the organization will be found out and their reputation will be destroyed anyway, but sadly and more importantly, the victims of child sexual abuse never recover while people remain in denial."
Pendarvis concurred, "The CDC reports that the victims of child sexual abuse suffer long term and severe mental and physical health issues, and experience earlier death even if they receive extensive counseling." Jim Byard stated that it was still difficult to understand why so many people remained silent. Pendarvis, who holds a masters degree in academic psychology in addition to her 17 years in child safety and abuse prevention explained the role of the "bystander effect." "Certainly there are many reasons why people don't report abuse. Fear of damaging someone's reputation, fear of retaliation, and the fear of being wrong. Frequently people who witness a crime or bad act feel certain that someone else around them also has noticed and will report the crime so there is no need for them to also report the incident. We see this in traffic accidents or in situations where multiple people watch people suffer and ask themselves 'Should I do something, should I walk away?' This type of thinking enables child sexual abusers."
Don Dymer added, "There is also another reason for not reporting the abuse and that is there are people out there who simply don't recognize the boundaries that should exist between adult and child. They may not be pedophiles, and they aren't suffering from the bystander effect, but they clearly lack the ability to determine what is appropriate behavior and these individuals put children at risk to the same degree as the child molesters. This is why as a background screening professional and founding member of the National Association of Professional Background Screeners I am alerting all organizations to test candidates for hire or volunteer who wish to work with children by demanding they take the Diana Screen®. It is a simple to administer, scientific assessment tool that identifies adults who fail to understand sexual boundaries between adults and children."
Results don't lie as Dymer points out. "The North Carolina Juvenile Justice System, over a two year period administered the Diana Screen® to 325 employees. 29 people failed the test. Of those who failed, 2 admitted prior inappropriate relations with children, 6 admitted having allegations against them and the remainder all admitted that they had problems identifying the boundaries that should exist between adults and children. That's staggering proof of the test's ability to protect child from child molestation outside the home in youth serving organizations."
Statistics show that the typical child sexual abuser molests [117 victims. Do the math and you can easily see how preventing 29 high risk adults from working around children impacts the lives of thousands of children. "Pedophiles migrate to youth serving organizations, so while the percent of the general population sexually attracted to children is 6%, the percentage in sports organizations, organized youth activities is much higher and hence the need for a much heightened scrutiny of the people who apply as volunteers or employees." explains Dymer.
SingleSource Services (http://www.SingleSourceServices.com) is located in Jacksonville Beach, Florida.The company provides background screening to over 2,500 business across a wide variety of industries and non-profit organizations. SingleSource was founded in 1995 and believes that backgrounds are like fingerprints and prides itself on its long term customer relationships and a strong commitment to fulfill its corporate civic duties.
Listen to the entire interview.
Sources: Darkness to Light, voicetoday.org,CDC, The Child Molestation Research & Prevention Institute.