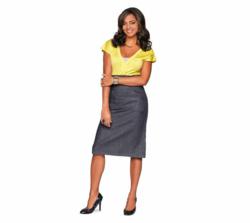 Los Angeles, CA (PRWEB) July 24, 2012
Queens, New York native Danielle Colding was a professional modern dancer prior to finding success as an interior designer in New York. After completing her undergraduate studies in anthropology at Stanford University, Danielle applied to FIDM/Fashion Institute of Design & Merchandising, to begin her studies in interior design. "I absolutely loved being in design school and could spend all day at my drafting board," she says. "My experience at FIDM helped me to understand design in a really concrete and practical way and gave me a glimpse into the business of design versus the art of designing."
After being encouraged by friends, Danielle decided to audition for season seven Design Star, a docu-series where designers compete for their own show on HGTV. "I had watched several seasons of the show, but never thought it was something I would do," she adds. "I was incredibly worried about being on camera and didn't know if I could design well under such stressful conditions." Fortunately, Danielle found the whole process "extremely positive" and a "ton of fun" and says that she would be thrilled to do more work in television.
Part of Danielle's success comes from the fact that she would rather her designs reflect her client's aesthetic rather than her own. While she can't be defined by one style per se, many of her designs feature clean lines, global accents, and a warm lived in look. "I absolutely love all things design related and can't think of anything more fun than getting to share that passion with a TV audience," she says. Design Star airs Tuesdays at 9/8c on HGTV.
FIDM/Fashion Institute of Design & Merchandising is a co-educational, specialized, private college dedicated to educating students for the Fashion, Graphics, Interior Design, and Entertainment industries. Known as a one of the top fashion design schools, FIDM is also a leading graphic design school and interior design school. Visit fidm.edu for more information.