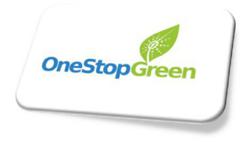 "One Stop Green is excited to work with Amazon to help bring environmentally friendly and energy efficient solutions to the world," says Sohail Hassan, President and CEO of One Stop Green.
Houston, TX (PRWEB) July 23, 2012
One Stop Green is working with sales and shipping giant Amazon, the world's largest online retailer, to help bring eco-friendly and energy efficient products to homes and businesses all over the world. Many popular retail products listed on the One Stop Green website are now available for purchase directly on Amazon.
One Stop Green took advantage of Amazon's outstanding seller interface and immense product catalog, which already included many of the retail products stocked on One Stop Green's e-commerce website. This allowed One Stop Green to easily integrate its retail sales catalog into Amazon's business interface and offer their products within Amazon's online market place. Being the world's largest online retailer, Amazon also helps One Stop Green improve its Internet visibility and gives customers more options when looking at the energy efficient and environmentally friendly products and technology.
Currently, most of One Stop Green products are available on Amazon, including Resource Revival clocks, the UFO energy management system, and even EarthMate CFL light bulbs. One Stop Green is working to expand its product line to LED lighting for both residential and commercial properties and these products will also soon be available on Amazon. One Stop Green will also be running special promotions for Amazon customers as over stocked items will be marked down significantly for new inventory. One Stop Green takes pride in working with Amazon, a company known for its environmentally friendly initiatives, and together, they look forward to making environmentally friendly and energy efficient products more accessible to everyone.
One Stop Green, LLC facilitates environmentally friendly improvements to residential and commercial properties through distribution of green, energy efficient products and services. They offer every product needed for sustainable energy independence enabling homeowners, businesses and commercial property owners to master their usage by reducing waste and implementing efficient energy consumption methods. Their goal is to provide user friendly and practical long-term solutions to existing inefficiencies and their carefully selected products and professional installers offer a higher level of satisfaction and service for their customers.
Contact:
Nathan Kaufman
http://www.OneStopGreen.com
P: 877.449.9110|O: 713.541.2739|C: 210.846.5900