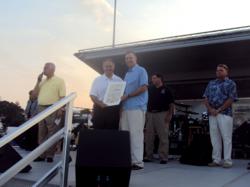 "These events will be wonderful opportunities for families in the area to get out, hear some fantastic music and enjoy the great summer weather," said David Lerner, founder and CEO of David Lerner Associates.
Oyster Bay, NY (PRWEB) July 24, 2012
David Lerner Associates, a financial investment company, headquartered in Syosset, NY, has announced that they will once again be sponsoring three 'Music Under the Stars' concerts in the Town of Oyster Bay. In the past, these concerts have drawn huge crowds to come out and enjoy incredible live music free of charge on a beautiful summer evening.
The 'Music Under the Stars' free concert series features multiple musical events taking place throughout different parks in the Town of Oyster Bay and appeals to a wide variety of music lovers.
On Friday, July 27, Dennis DeYoung will perform at John Burns Park in Massapequa. DeYoung is renowned for his work as a founding member and lead vocalist of the rock band Styx. On Wednesday, August 1, The Time Machine will perform at Syosset/Woodbury Park. The Time Machine plays a mix of Motown, rock, pop and disco, appealing to a multi-generational audience. The third concert, billed as 'An Evening of Doo-Wop,' will be held at Theodore Roosevelt Park in Oyster Bay on Friday, August 3. Legendary Doo-Wop groups The Blue Notes and The Duprees will perform.
"We are pleased to join the Town of Oyster Bay in sponsoring these free 'Music Under the Stars' concerts," said David Lerner, founder and CEO of David Lerner Associates. "These events will be wonderful opportunities for families in the area to get out, hear some fantastic music and enjoy the great summer weather."