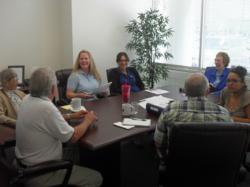 The software training was invaluable to ensure a smooth start-up of the TRIP Program.
Riverside, CA (PRWEB) July 24, 2012
The TRIP Program, operated by the non-profit Independent Living Partnership, has opened a training center to provide hands-on, in-depth training for the staff of agencies and organizations that are beginning similar services for adults and persons with disabilities who do not have sufficient life-line transportation. Steve Kramer, CEO of Blessings! For Seniors in Goodyear Arizona, completed training at the new center last week.
The 2-day training in Riverside consisted of business model and operational training, including hands-on familiarization with TripTrak, an internet subscription software, that TRIP specifically designed for effective administration, management and reporting of a TRIP service. Kramer says, "The software training was invaluable to ensure a smooth start-up of the TRIP program. Now I feel comfortable being able to train my own staff on how to use the software. I was impressed that the software was a complete package, covering the client from intake through printing of the reimbursement checks. The software also has an extensive reports feature that is important to generate the necessary data that supports securing funding for grants and other funding sources."
Kramer says "I am a firm believer of not reinventing the wheel - I attended ILP's two-day training to learn firsthand how to operate a TRIP Transportation Program." He says, "The knowledge and patience of the TRIP staff, combined with a relaxed but professional environment, helped me gain the confidence that I will be successful from the start. The hands-on experience of entering real time information and being involved in the decision making process for applicants reinforced the learning process."
Kramer has filed an application for a new non-profit to be called "Living Solutions For Seniors" in order to operate a TRIP service and help seniors in the Southwest Valley of the greater Phoenix metro area get the rides they need to doctors, grocery shopping and for other purposes that most of us take for granted.
Kramer says "The area is a combination of small cities and a large rural community that has very limited public transportation. Even if there were funds for public transportation, the majority of the clients we will service have limitations that prevent them from walking to bus stops or being able to carry packages from the stops to their homes. What is needed is a through the door service that provides individuals the assistance necessary to remain living in their own homes."
Kramer continues that he was attracted to the TRIP service model because "through the door services for transportation are inherently expensive when using paid employees and it's highly unlikely that there will ever be enough public funding to cover this expense. I realized that TRIP could provide the needed service for individuals in our community at a very reasonable cost."
ILP and TRIP recently launched a national campaign to promote adoption of its proven volunteer driver service by other communities. According to Smith, "Opening the training center is a big step forward. Smith says, "We felt that emersion in TRIP operations in Riverside would be a valuable learning experience for people who are able to join us for that type of training, but for others who are unable to physically participate in on-site training, we interactive web alternatives and will soon be adding a full video training library as well."
Another new service we have begun to provide is something we are calling TRIP Conversations." The last Thursday of each month people from organizations that are planning, starting or already operating TRIP services in their communities are now participating in free tele-conferences to compare notes and share information. Smith says that people who would like to participate in the teleconferences can register at http://www.triptrans.org.
Demand for special transportation services is being propelled by the aging of the boomer generation and volunteer driver programs are increasingly being thought of as a way to relieve some of the demand pressure on very expensive paratransit services. According to Smith, "TRIP has consistently been providing trips at a cost to our organization of between $5 and $6 each as compared to $35 or more for each trip on paratransit, or $20 or more for Taxi Voucher services, so it just makes economic sense to consider an effective, but less expensive alternative." Smith recently made a presentation at the American Public Transportation Association meetings where he suggested that it would also be in the interest of transit and paratransit services to support or operate TRIP model supplemental transportation services.
Richard Smith, General Manager of TRIP, says "Unfortunately there are people in every community who are transportation underserved." Smith continues "They are people who do not drive, do not have family to help, who live in areas where little or no public transportation exists". These are people who are often alone and isolated, living on very low income, often with serious health challenges and unable to access needed health services or even get to the store to get groceries." Smith says "42.6% have a monthly income of less than $833 and 83.5% have a monthly income of less than $1,250." On average the people served by TRIP Riverside have 4.9 chronic or debilitating health conditions that require them to make 1 to 1.5 trips for medical purposes each week.
TRIP was created in 1993 using a marketing approach. Focus groups asked older adults what they wanted in a transportation service and then designed the program based on their preferences. Informants said they wanted personal vehicles to be used, they wanted the service to be free, they wanted the service to be available 24 hours a day every day, they did not want to have schedule rides in advance, and they wanted to be able to travel between cities without transfer or inconvenience. Volunteer escort-drivers make each trip with their rider, assisting them as necessary and required, and receive mileage reimbursements to help pay for gas.
Read more about the TRIP Model volunteer driver service at http://www.TRIPtrans.org.