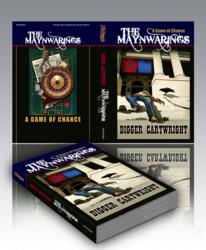 Politics, murder, scandal, gold, and the biggest ranch in the Old West…the Maynwarings of The Greenbrier battle to keep what is theirs, preserve a way of life, and protect the future.
Orlando, FL (PRWEB) July 25, 2012
The office of Digger Cartwright, mystery novelist and industrialist, has revealed the cover of his upcoming western mystery novel, The Maynwarings: A Game of Chance.
The Maynwarings: A Game of Chance centers around the Maynwaring family--Barron, a United States Senator for the State of Nevada, his wife Eleanor and their children, Mary Catherine, Breckenridge, Houston, and Stokes. The Maynwarings have a massive ranch called The Greenbrier, which some say is the biggest in the entire west. In addition, they have business interests in timber, mining, hotels, mills, banking. In addition, they're also very influential in the political realm as well with Mary Catherine serving as Solicitor of Carson City and Breckenridge serving as a city councilman.
When United States Senator Barron Maynwaring returns to his family and his beloved ranch, The Greenbrier, much has changed in Carson City. Family friends have taken to gambling. Cattle rustlers have increased activity around the massive ranch. A mysterious stranger, Giddeon Van Thorn, has arrived in town on secretive business. A political opponent and the press have launched attacks on Barron and his family. When Dan Arkin, the Maynwarings' neighbor, is murdered, suspicion immediately turns to Jeremy Foster, a loner who had threatened Arkin after a crooked card game. When the posse led by the Maynwarings turns into a lynch mob, against their will, and Van Thorn's men hang Jeremy Foster, Barron's daughter Mary Catherine, the Carson City solicitor, launches an investigation of her own hoping to learn why the strangers wanted Foster dead.
As Van Thorn attempts to buy up property in Carson City for a massive redevelopment, Barron's son, Stokes, a city councilman, attempts to block the slick businessman's plan that seem more than meets the eye. As they seek answers to Van Thorn's true intentions and dark background, the Maynwarings are stunned to learn that Jeremy Foster's brother has arrived in Carson City seeking revenge for his brother's untimely death. As bodies mount and the Maynwarings are bushwhacked, it becomes apparent that a sinister game of chance will determine the fate of The Greenbrier and the future of Carson City…yet in this high stakes game of chance nothing is as it seems!
Mr. Cartwright made the following comments upon release of the cover of his upcoming novel:
"I've always been a fan of westerns—like Gunsmoke, The Big Valley, The Magnificent Seven and The Good The Bad, & The Ugly—so I decided to write one. They're not really in style anymore, but I know there are a lot of readers out there who will appreciate something new and different. I've tried to craft my own unique mystery and thriller element to this western, so it's not as simple as the gunslinger rides into town, there's a shootout in the street, and so on. No, there's much more to this western than that, and there's much more than meets the eye."
The Maynwarings: A Game of Chance will be available in hardback, paperback, and e-book format through Digger Cartwright's website, http://www.DiggerCartwright.com, on-line booksellers and bookstores. The release date of the novel is anticipated to be mid-September.
About Mr. Cartwright—Digger Cartwright is the author of several mystery stories, teleplays, and novels including The Versailles Conspiracy, a modern day political thriller, Murder at the Ocean Forest, a traditional mystery novel set in the 1940s, and The House of Dark Shadows, a psychological thriller.
Mr. Cartwright is also a noted industrialist and investor with interests ranging from shipping, oil exploration, sports entertainment, hospitality and tourism, and gaming. In the business realm, he has contributed to a number of articles on a wide range of financial, strategic planning, and policy topics and is a contributor to several finance/economic books. He frequently contributes articles, commentaries, and editorials focusing on current economic and political topics for the private think tank, Thinking Outside the Boxe.
Mr. Cartwright's philanthropic efforts include contributions to a wide range of causes, predominantly at the local level. Mr. Cartwright is an enthusiastic supporter of local no-kill animal shelters and humane societies, the Wounded Warrior Project, and local Meals on Wheels programs.
He enjoys golf, participating in charity golf tournaments, falconry, and attending WWE events. He divides his time between Washington, D.C., South Carolina, and Florida.
Press Contact:
Executive Assistant to Mr. Cartwright
Telephone: 888-666-1036
Website: http://www.DiggerCartwright.com
Facebook: http://www.facebook.com/DiggerCartwright
Twitter: @mysterydigger
###