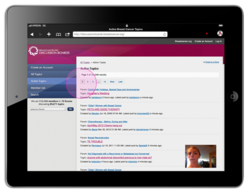 Mobile user testing has never been easier!
Boulder, CO (PRWEB) July 24, 2012
UX Recorder (http://www.uxrecorder.com) is now available on the iTunes App Store. UX Recorder allows user experience professionals to record user testing sessions of mobile websites on iOS devices. It uses the device's built-in front-facing camera and microphone to capture facial expressions and audio. It also captures touchscreen navigation, including gestures like swipes, pinches, and taps. After the video and audio data is captured, it is rendered into an .MOV file (H.264) for easy viewing, editing, and analysis.
Key Features:

Record both user actions (swipes, taps, scrolling) AND audio and video of the user's face via the device's camera.
Export recorded video sessions (H.264-encoded .MOV format) to your computer's desktop via iTunes, Dropbox, or Camera Roll.
Easily pause and resume session recording.
Create multiple projects to organize testing sessions.
Create multiple sessions within a project.
Create bookmarks to save Web site URLs for use during testing sessions.
Share bookmarks with iCloud.
Device Requirements:
iPhone, iPod touch, or iPad
iOS 5.0 or greater
Device must have a front-facing camera
Pricing and Availability:
UX Recorder 1.1 is $59.99 USD (or equivalent amount in other currencies) and available worldwide exclusively through the App Store in the Productivity category.
Located in Boulder, Colorado, Foraker Labs (http://www.foraker.com) was founded in 1999. Foraker Labs is an award-winning web and mobile application development firm, and believes strongly in bringing a user-centered design process to all of its client projects. UX Recorder was developed to make mobile user testing easier for everyone. All Material and Software (C) 1999-2012 Foraker Labs / All Rights Reserved. Apple, the Apple logo, iPod, the iPod logo, iPhone, iPad, iCloud, are registered trademarks of Apple Computer in the U.S. and/or other countries.