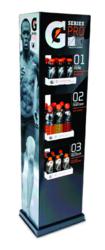 Durability and stability are central to our production process so retailers benefit from not only an eye-catching design that prominently displays products, but they also derive months of shopping from each point of purchase display
Minneapolis, MN (PRWEB) July 24, 2012
Creative Displays Now announces its blog series POP Display Success Stories that highlights the company's point-of-sale (POS) display creation and manufacturing capabilities. Creative Displays Now's corrugated display units act as distinctive product settings that enhance brand visibility. The blog series focuses on product placement for major brands like Gatorade and Verizon in high traffic retail spaces such as grocery, health food and electronics stores. Creative Displays Now's POP Display Success Stories illustrate the distinct challenges faced by each product manufacturer and how Creative Displays Now's displays showcase products in diverse retail environments.
Creative Displays Now has designed displays and packaging for all of the major retailers. Product manufacturers can be assured that the displays they order will adhere to the most recent display specifications for each store. The displays manufactured by Creative Displays Now offer these features:

Durable corrugated construction
Vibrant appearance that delivers highly visible brand messaging
Flexible designs that can be configured to hold multiple product sizes
Can be designed for end of aisle or center aisle (shoppable from both sides) placement
Increased product visibility over items sold on the shelf
Creative Displays Now can design and produce inviting POP displays for any size product manufacturer; for placement in any retail environment. "Our corrugated retail displays create a memorable impression whether they are placed at the end or within an aisle. Durability and stability are central to our production process so retailers benefit from not only an eye-catching design that prominently displays products, but they also derive months of shopping from each point of purchase display," said Matthew Ruggle, Marketing Manager for Creative Displays Now!
Creative Displays Now's structural and graphic design, project management, and sales teams offer years of experience designing and manufacturing retail displays that stimulate consumer interest and sell more product. Producing a POP display – from design to delivery can be accomplished within as little as one week, depending on the project. Creative Displays Now can accommodate shorter time frames for project requests because it controls the entire process, from concept to design, prototyping, printing, manufacturing …all the way to distribution to the retailer if required. Creative Displays Now's POP displays and specialty packaging has, for over a half century, provided an effective, reliable and fast way to make display and packaging projects come to life.
About Creative Displays Now
For over 50 years, Creative Displays Now has produced custom point of purchase displays and creative retail packaging. The 140-member team, based in Minneapolis, Minnesota, provides end-to-end custom retail packaging and display services. The company also offers custom shipping boxes via its sister website, CustomBoxesNow.com.
For more information about Creative Displays Now's corrugated point of sale displays, please contact Matthew Ruggle, Marketing Manager: 763-493-6550.