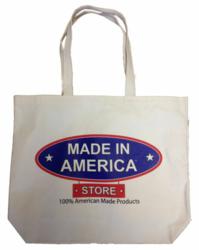 Elma, New York (PRWEB) July 24, 2012
One of the biggest concerns these days with businesses is how each company is dealing with leaving carbon foot print. Simply put, being 'green' is as important to a company as their message in the industry. The Made In America Store is doing their part by offering a Canvas Tote Bag.
Consumers can be relieved to know that the Canvas Tote Bag from the Made In America Store is made from 100% recycled materials, making the tote bag green in itself. The Canvas Tote Bag is made from Ecotec yarn with Moral Fiber and Bottle Bag material. Ecotec yarn is blended cotton produced from the excess cotton that comes from manufactured clothes. Ecotec makes up about 80% of the Canvas Tote Bag and the remaining 20% is made with Bottle Bag material. Bottle Bag is a material made from 100% recycled soda bottles. This innovative process of using the soda bottles and turning it into a malleable cloth saves land, energy and water.
Looking to do your part in saving the earth and becoming "Green"? Click here to view our Canvas Tote Bag, made from recycled materials!
The canvas tote bag has 25 inch reinforced shoulder length web handles, making it easy to carry around. The Canvas Tote Bag can reused, making it one of the most "green" bags available.
The Made In America Store is located at 900 Maple Road in Elma, New York and is committed to selling 100% American manufactured products. You can visit http://www.MadeInAmericaStore.com for more information or shop our catalog of over 3,500 products from over 290 vendors that are devoted to producing USA made products. All US military personnel, both active duty and veterans, receive a discount every day. Consumers can also keep up to date news articles, events, photos and contests with Facebook, Twitter, Google+, Pinterest and Tumblr!