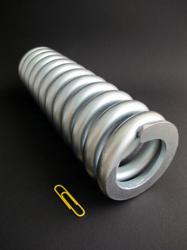 We are one of the few spring companies that carry large hot wound springs, and can provide fast delivery upon request
Chelsea, MA (PRWEB) July 25, 2012
Hardware Products Company, manufacturers of custom and standard springs, is one of very few stock spring houses to maintain a hot wound stock spring inventory. This exclusive inventory item is part of one of the oldest spring inventories in the United States and highlights Hardware Products Company's commitment to their clients' needs.
Hot wound springs are made from a large wire with a diameter approximately .625" or greater. HPC stocks hot wound springs .750" and 1.000" in diameter, 4-6" in outside diameter, and 4-16" in free length. These springs yield rates from 300lbs per inch to 4500lbs per inch. As a result of its large width the wire cannot be bent in the cold wound state. Once heated, the wire softens enough to be shaped into a spring. The newly formed spring is then quenched in oil and finally stress relieved in an oven before completion. The large springs are typically used in rail, automotive and heavy industrial applications. "We are one of the few spring companies that carry large hot wound springs, and can provide fast delivery upon request," according to Ted White, Hardware Products President.
Hardware Products Company was founded in 1866 in the historic North End of Boston, a stone's throw away from Paul Revere's house, as a manufacturer of machined hardware items. The company, now located in Chelsea, MA has evolved into a leading manufacturer of custom and standard compression extension, flat, and torsion springs specializing in short runs. For more information visit Hardware Products new website at http://www.hardwareproducts.com.