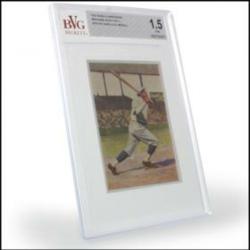 PoliceAuctions.com will be auctioning a BVG Verified and Graded Babe Ruth Sanella Baseball Card. The one-dollar no reserve auction will end on Friday July 27th.
(PRWEB) July 24, 2012
PoliceAuctions.com, home of police aucuctions and government auctions on the web, is auctioning a 1932 Babe Ruth baseball card. The Sanella Margarine baseball card has been verified and graded by BVG and comes in a sealed plastic display holder.
In 1936, Ruth became one of the first five players elected to the Baseball Hall of Fame. Ruth has since become regarded as one of the greatest sports heroes in American culture. In 1993, the Associated Press reported that Muhammad Ali was tied with Babe Ruth as the most recognized athletes, out of over 800 dead or alive athletes, in America. The study found that over 97% of Americans over 12 years of age identified both Ali and Ruth. According to ESPN, he was the first true American sports celebrity superstar whose fame transcended baseball.
The Babe Ruth Sanella Margarine baseball card being auctioned by PoliceAuctions.com has been graded and authenticated by BVG. BVG is the grading service offered by Beckett Media who famously produces price guides for collectibles.
The 1932 vintage baseball card auction will be a one dollar no reserve auction. This means that if the auction for the BVG verified and graded Babe Ruth Sanella Margarine baseball card ends at only one dollar than the lucky winner would only pay one dollar, plus shipping and any applicable taxes, for the card.
About PoliceAuctions.com
PoliceAuctions.com offers many services to their members including a searchable listing of police auctions and government auctions. PoliceAuctions.com is known for their one-dollar no reserve auctions. These fast paced auctions offer their users the chance to bid on, and win, items for as little as one dollar. By combining a product selection ranging from name brand jewelry auctions, watch auctions, collectible coin auctions, and sports memorabilia auctions with industry leading customer service, PoliceAuctions.com has earned the loyalty of over 5 million devoted users.
PoliceAuctions.com has made it even easier for customers and fans to connected with them via social media like their Facebook fan page. This exciting and newly launched space informs customers of up coming auction items.