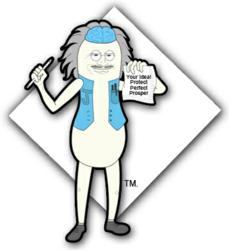 You never know when or where you will be when that flash of genius hits you" says.. Ellwood G. Ivey Jr.
San Mateo California (PRWEB) July 26, 2012
The creatorschool.com along with its entire online creative community, expressed excitement about Jecee being developed into a Mobile App, so creators can invent and assess on the go! "You never know when or where you will be when that flash of genius hits you" says.. Ellwood G. Ivey Jr. the project's developer and Founder of http://www.creatorschool.com. Jecee empowers the user with the knowledge and guidance to facilitate ideas in this age of the America Invents Act (AIA)! Jecee enables the user to easily work his way through the creative process starting with protecting an idea, then perfecting and finally, prospering from the idea. "Jecee will be continuously upgraded with faster patent search and market tools", says the creative networks' Founder Ellwood G. Ivey Jr.
"The Personal Idea consultant, I affectionately call Jecee, will help independent Inventors compete and win, especially now as we enter the First to File doctrine under the America Invent Act. Jecee's name is an acronym of Jobs, Edison, Carver, Einstein and Elion-- the last names of some of the greatest and creative minds in history, each of whom started out just like us as Independents" says Ellwood Ivey Jr.
Jecee the (online wizard) is Creators School at shareideas.me's no- nonsense professor character who greets the user on the log-in page. Once the online user completes an easy 8-minute questionnaire, Jecee provides him with a truthful real-time Custom Report that contains the user's score and a realistic appraisal of the users' idea, market and IP position. "Creator School and Jecee is the 1st stop for the inventor and first line of defense against being swallowed by AIA" says Ivey. The Jecee Mobile App will roll out November 4th, 2012. Then In February 2013 an upgraded voice activation version will hit the market, which backers of the project get for Free!
Creator School at shareideas.me provides Jecee's Custom Report for free! As the user appreciates how the free Custom Report saves him both time and money, he will make a $5.95 contribution towards his own future use of Jecee!
"Creator School at shareideas.me gives the independent Inventor more customized information in 10 minutes for free than anyone anywhere, which puts the lone inventor in the driver's seat"! says Ivey.
Testimonies:
Loraine Blidge of Sav GA: "I was amazed at how effective Jecee was in providing me with both a great appraisal of my idea and a good idea on how I might improve it!"
Jewel Daniels of D C Group says "The creative process comes easy but the challenges of developing an idea to market potential and taking care of business matters to protect your ideas, is where people often fall short. Having a creative collaborative space that also helps to walk you through this journey is an amazing opportunity."
"With the resources and tools on this site, I can do my own IP work and make money from my ideas, it's great!"
—Curtis Simons, AL
"The overall Quality of the information and tools on this site are Excellent."
—Ella Lingard, Wilmington Isle, GA
"I have benefited greatly from the material found here during the Alpha phase, looking forward to using the site to share my ideas."
—Sharon Scott, GA
"The informative data on this site got me thinking about IP (Intellectual Property) in a whole new way."
—Denise Vollmer, GA
"During beta I think I found the hidden value on the site in the problem solving feature, it gives me the opportunity to earn money by coming up with creative solutions for small businesses."
__ Terry Miser, AL
The site Launched May 24th 2012 and offers free registration for users!
About The Invention Ingen. LLC and its subsidiaries http://www.shareideas.me and Creator School TM. The Invention Ingen LLC. is a Delaware limited liability company founded in 2009 to improve the invention process for creative people.
For further Information Contact: Ellwood G. Ivey Jr. 912-484-4578
Contact US: The Invention Ingen LLC
The Metro Gateway Center HQ
1840 Gateway Drive Suite 200
San Mateo, California 94404
PH No. 1-650-378-1498 or East Coast Savannah GA 912-484-4578
admin(at)shareideas(dot)me