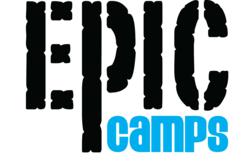 Elkridge, MD (PRWEB) July 24, 2012
The EPIC Brands has seen much success with their camps business this season, and would like to kick off rec cheerleading season with a special offer for rec teams.
Each private camp scheduled from now until September 15, 2012 will be only $25 per camper, per day. Camp days will last 3 hours each, and the special requires a minimum of 2 camp days and 15 campers per day. The EPIC Camp instructors will visit each facility and act as guest coaches, teaching any cheerleading and stunting techniques requested by the team coaches. These camps can be scheduled at any time, as EPIC instructors are flexible with team practice times.
Take advantage of this special camp offer by contacting Jenn(atTheEpicBrands(dot)com or calling 877-322-2310 for registration information. Please visit the Epic Camps page at http://www.theepicbrands.com/camps.
Find the EPIC Brands on Facebook or on Twitter by clicking the links!