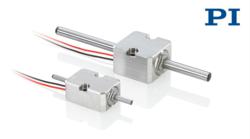 Auburn, MA (PRWEB) July 23, 2012
Compact, yet High Force
The compact, PIShift linear motor actuator is based on a piezo inertia drive with relatively high pushing and holding force to 2 lbs / 10N. The motion makes use of the stick/slip effect – a cyclical alternation of static und sliding friction between a moving runner and the static piezo drive element. The self-clamping design produces its maximum holding force at rest when it will neither consume power nor generate heat.
Quiet and Fast Due to High Frequency Operation
The novel design allows higher speed than conventional stick-slip drives combined with quiet operation due to its high operating frequency of >20 kHz.
Mounting and Integration
Two piezo motor versions are available to facilitate integration: The static motor housing can either be bolted to a level surface or mounted via a threaded flange. In both cases the load is coupled to the moving runner.
Piezo Driver Electronics
A compact OEM piezo motor driver is available in single or multi-channel versions with analog or digital control.
More information on Stick Slip Piezo Motors is available here
http://www.physikinstrumente.com/en/products/prdetail.php?sortnr=1100008&onl_prw
About PI
PI is a leading manufacturer of precision motion control equipment, piezo systems, piezo motors and actuators for semiconductor applications, photonics, bio-nano-technology and medical engineering. PI has been developing and manufacturing standard & custom precision products with piezoceramic and electromagnetic drives for 4 decades. The company has been ISO 9001 certified since 1994 and provides innovative, high-quality solutions for OEM and research. PI is present worldwide with eight subsidiaries, R&D / engineering on 3 continents and total staff of 700+
Contact
PI (Physik Instrumente) LP
16 Albert St.
Auburn, MA 01501
USA / Canada/Mexico: http://www.pi-usa.us, Email: info(at)pi-usa(dot)us
Phone: East / Midwest: (508) 832-3456, West: (949) 679-9191
Follow PI on Twitter:
http://twitter.com/PI_Physik_Inst/
PI Blog: