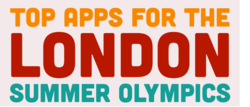 Mobile Apps can be a wonderful way to track athletes, or follow a countries medal count.
Jericho, New York (PRWEB) July 26, 2012
The Olympic flame has already arrived in London, traversing over 200 miles of city streets, passing famous London landmarks, community places, and showing off famous cheap London hotels. The games are rapidly approaching, set to begin on Friday the 27th of July. Travelers and sports enthusiasts alike are busy planning, dreaming, and anxiously waiting for the games to begin.
Many won't be able to attend the games in person, but today's technology has made it possible to live the dream from the comfort of home, office, or even on the road for those who can't get out of that all-important meeting. Television has long been the medium of choice to watch the Olympics, but this year the Olympics can be followed through new technology, the smart phone. Smart phone Applications or "Apps" give one the ability to track the Olympics medal count, follow athletes, or even watch an event directly on a mobile phone.
Finding these useful Apps can be somewhat of a challenge, especially for the casual sports fan, who may be technically challenged. Fortunately private companies such as HotelsCheap.org have already done the research, identifying the most popular Olympic Apps. Hotels Cheap Vice President Rob Bruce said, "Mobile apps can be a wonderful way to track athletes, or follow a countries medal count. By going the extra mile, and providing a service beyond cheap discounted hotel rooms, we give our customers a reason to come back and visit us again in the future." Olympic games are always fun, and this year promises to as good or better due to the advancement of technology. Smart phone apps can be a great way to take advantage of modern technology and follow the Olympics remotely.
Below is a list of the top Olympic Apps, used to track the London Summer Olympics], researched and produced by Hotelscheap.org.
London 2012: Official Join In
This is the official app by the London Games Organizing Committee, provides reliable venue descriptions, event photos, event schedules, London city maps and even social media interactions. Cost: Free
London 2012: Official Results
The London Games Organizing Committee app will give real-time results, the latest news, and a full schedule of events for both the Olympics and the subsequent Paralympics. Cost: Free
2012 Olympic Medals
This app tracks medal counts, event schedules and even a country tracker on the home screen (for Android users). This app is perfect for loyal fans of one or many countries participating in these Olympic Games. Cost: Free
2012 Team USA Road to London
Linked to the official Team USA website this app provide profile information for every US Olympian. It contains videos, a "Cheer" button to connect with your favorite Olympians on Twitter and Facebook, and the opportunity to donate to Team USA. Cost: Free
2012 Summer Games London Offline
This app supplies all the important details: schedules, history and game rules. It also provides maps with transportation information for those visiting the games, traveling by public transit, foot, bicycle or taxi. Cost: $0.99
London 2012 Official Game
This app is a game for the iphone or android, allowing users to create an Olympian and compete in up to 9 events. Users can customize the appearance of their athlete with 220 accessories, and will compete in authentic London 2012 Olympic venues virtually. Cost: Free
London Countdown
A timer counts down to the opening of the 2012 London Summer Olympics—without the need for internet or data connectivity. It has a schedule of events and a history of the Olympics complete with the results previous Olympic Games. Cost: Free
London Olympics 2012 Fan App
Fans can stay up to date with the most recent news and video from the Olympic Games. Cost: Free
2012 Olympics Medal Tracker
Never miss a medal. Users can filter this app in several ways, such as selecting a sport to see all events and dates of medal contests. The app tracks medal counts for all countries, and users can also track favorite athletes. Cost: $0.99
London 2012 Olympics
The app perfect for Trivia buffs. Re-acquaint yourself with thousands of questions and answers about the Olympics. Its repertoire has plenty of Olympics trivia, like history, event results, athletes and more. Cost: $2.99
NBC Olympics "Live Extra"
Screen all the 302 Olympic events live on your mobile device, with full replays using this app. Cost: Free (for cable, satellite or Telco subscriber with CNBC and MSNBC)
NBC Olympics
Live news, results, schedules and number of medals won all in one spot. It also has video and photo highlights and keeps account of your favorite athletes and sports. It can be linked to social media channels to discuss the latest events.
Smart phone Apps make following the Olympics that much easier, ensuring a fantastic, mobile experience for the 2012 London Olympics.
Hotels Cheap is an online travel company who specializes in selling hotel rooms online. They have been in business for over 10 years, and are recognized around the internet as one of the few true discount hotel providers, constantly scouring the internet for the best hotel deals for their customers. HotelsCheap.org is also known as a travel industry research organization. They write journalist style travel articles, compile interesting infographics to help educate their customers, and the travel industry on recent trends in travel.