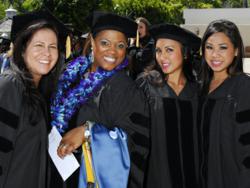 At Alliant International University, minority students from diverse cultures and backgrounds are welcomed, affirmed and able to thrive.
San Diego, CA (PRWEB) July 24, 2012
For the fifth consecutive year, Alliant International University has been recognized as a top producer of minority graduate degrees, as published in Diverse: Issues in Higher Education Magazine.
Alliant International University continues to rank #1 in granting doctorate degrees in psychology to students from all minority groups combined. Within this overall ranking, Alliant ranks first in doctorate degrees in psychology for Latino – Latina - Hispanics, Asian Americans, and Native Americans, and #3 for doctoral degrees awarded to African Americans.
Additionally, Alliant International University ranks in the top 25 in the United States for doctorate degrees awarded to all minority groups, across all disciplines from African-Americans to Latino-Latina- Hispanics, Native Americans and Asian-Americans.
"In diverse communities with high concentrations of minority populations and workforce diversity, such as those you see across California, we know it's critical to provide the right educational environment," said Dr. Geoffrey M. Cox, President of Alliant International University. "At Alliant, we take great pride in being an inclusive culture across all of our U.S. and international campuses, where minority students, faculty and staff, from diverse cultures and backgrounds, are welcomed, affirmed and able to thrive."
Alliant International University maintains a strong commitment to diversity and strives to train "multiculturally-competent" professionals who can serve diverse communities following graduation through its five schools--the California School of Professional Psychology, the California School of Forensic Studies, the Hufstedler School of Education, the Alliant School of Management and the San Francisco Law School.
A complete list of Alliant International University's diversity rankings for doctoral degrees and the University's diversity ranking for masters degrees are available online, as well as the full list of Diverse Magazine's diversity award rankings.
About Alliant International University
Alliant International University is a WASC-accredited private, non-profit university that emphasizes the practical application of theory and research to prepare students for professional careers in psychology and mental health, education, business and management, forensic studies, and law. Created in 2001 by the merger of two legacy institutions, its combined institutional history in higher education dates back over 100 years. Headquartered in San Diego and San Francisco, Alliant has additional campuses in Los Angeles, Irvine, Fresno, Sacramento, and Mexico City with accredited programs in Hong Kong and Tokyo.