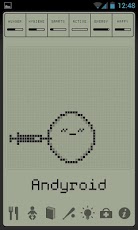 Hatchi is sure to get the nostalgia burning for all those who cared for a virtual pet back in the 1990s
London, UK (PRWEB) July 24, 2012
Hatchi, the retro-looking Tamagotchi-style app that quickly rose to become one of the best-selling iPhone games in the UK, Australia and many other countries, has been hatched today on Android. Just like it did for iPhone users, Hatchi is sure to get the nostalgia burning for all those who cared for a virtual pet back in the 1990s when they were at the height of their popularity.
Just as with the keychain-sized Tamagotchi pets, Android users now will feed, clean, play with and generally look after their pets to ensure they grow up to be healthy, happy little Hatchis. The Hatchi monster will go through several stages of growth, and will develop differently depending on the quality of care the player provides. A successfully raised Hatchi monster will be smarter, happier, and require less attention.
In its review of Hatchi, Gizmodo raved, "Hatchi is nearly identical to the original Tamogatchi down to the low-fi LCD graphics, which is precisely why we love it. Well, we also love it because we're socially awkward nerds, and we could really use something to distract us from the painful, crushing loneliness."
Touch Arcade reviewer Brad Nicholson remarked, "It's hilarious, but I really, really, really don't want Big Poppa Pump (his Hatchi monster) to bite the dust. I've somehow bonded with the thing, as silly as that sounds, and the competitive part of my brain wants to see an evolution based on my meticulous play."
Hatchi is available in the Google Play store for US$0.99.
About Portable Pixels:
Portable Pixels are iPhone developers based in London with clients including Wallpaper* magazine, Audi, and Imperial University. For more information, visit http://www.portablepixels.com.