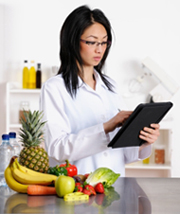 Scientists, like the rest of the population, are quickly adopting the use of mobile devices, which represents an opportunity for suppliers.
Arlington, VA (PRWEB) July 24, 2012
This worldwide primary research study of the academic and pharma/biotech sectors provides a 2012 best practices guide for life science suppliers who want to maximize the impact of their mobile marketing strategies. The report was designed to help suppliers understand how scientists are using mobile devices, what applications and functions they would like to use mobile computing for and how willing they are to have life science suppliers market to them through their handheld devices. Over 500 scientists share their opinions and current practices with regards to how they use mobile devices to download apps, browse catalogs, share data and otherwise increase the efficiency of how they work.
The following suppliers were presented as answer choices to a survey question about which companies scientists would like to receive mobile apps from:
AB SCIEX
Affymetrix
Agilent Technologies
BD Biosciences
Beckman Coulter
Bio-Rad Laboratories
Caliper (PerkinElmer)
Cell Signaling Technologies
Corning Life Sciences
EMD Millipore (Millipore, Calbiochem, Novabiochem, Novagen, Merck KGA)
Eppendorf
Fermentas (ThermoFisher)
Fisher Scientific (ThermoFisher)
GE Healthcare
Illumina
Leica Microsystems
Life Technologies (Applied Biosystems/Invitrogen)
Luminex
Molecular Devices
New England Biolabs
Pall
PerkinElmer
Promega
QIAGEN
R&D Systems
Roche Applied Science
Sigma-Aldrich
Takara Bio
Thermo Scientific
VWR Scientific Products
Waters
"Still in its nascent stage, mobile marketing is not yet clearly defined," states Tamara Zemlo, Ph.D., MPH, Vice President of Advisory Services. Dr. Zemlo adds that: "What is known is that scientists, like the rest of the population, are quickly adopting the use of mobile devices, which represents an opportunity for suppliers. Mobile Marketing to Life Scientists will provide guidance to suppliers who are preparing to move forward with a mobile marketing strategy."
To learn more about Mobile Marketing to Life Scientists (12-004), a complimentary Executive Summary is available at gene2drug.com.
ABOUT BIOINFORMATICS LLC
BioInformatics LLC is the premier research and advisory firm serving the life science industry. By leveraging our professional social network of more than 70,000 life scientists, we have supported more than 500 companies and provided insights that lead to better business decisions. Our assignments include assessing the size and attractiveness of markets, optimizing product configurations and pricing, validating corporate acquisitions, measuring customer loyalty, and evaluating brand strength and positioning.