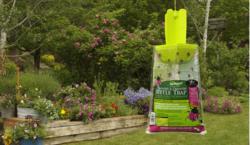 The trap is a time, money and energy saver that safely and effectively eradicates large numbers of Japanese and Oriental beetles, sparing yards and gardens from a potential beetle nightmare Schneidmiller says.
Spokane, WA (PRWEB) July 26, 2012
Gardeners are reporting this may be the worst Japanese and Oriental beetle season in years due to the mild winter and warm spring. These destructive beetles invade gardens and lawns, eating leaves, roots and blooms on everything from trees to prized roses and turfgrass while costing homeowners millions in property damage.
Many gardeners have trouble gaining control over the sheer numbers of Japanese Beetles and Oriental beetles and resort to picking them off by hand or using harsh chemicals that can harm people, pets and the environment. But there's a better and safer solution.
The RESCUE!® Japanese & Oriental Beetle Trap combines research into pheromones, beetle behavior and an ingenious cone design that uses a controlled non-toxic delivery system to attract and capture both males and females.
"Our trap is scientifically formulated and engineered to have a controlled consistent release rate that attracts adult beetles," says Rod Schneidmiller, founder and president of Sterling International, Inc., pioneers in green pest control for over thirty years and makers of RESCUE!® traps. His company produces an environmentally friendly and easy solution to trap both Japanese and Oriental beetles.
Catching beetles before they mate is particularly important with these pests since the life cycle of a beetle takes about a year to complete. The beetles that destroy property this summer were eggs nearly a year earlier. As the adult beetles feed on leaves in summer, the female heads down to burrow into the ground or turf many times to lay eggs. By mid-August, she'll lay about 60 eggs. Those eggs hatch in less than two weeks to begin a life underground as larva. Traps allow gardeners to catch her before she burrows underground.
"It's important to catch the beetles before they start laying eggs that grow into grubs," Schneidmiller explains.
Easily identified by their metallic green color and coppery, iridescent wings, Japanese beetles tend to cluster en masse while feeding on over 300 species of plants and "skeletonizing" their leaves.
Oriental beetles may be the less flashy cousins that are harder to spot because of their nighttime flight habits but are equally destructive, preferring the roots of turfgrass and ornamental crops and fruit, where they do most of their damage.
Schneidmiller points out that, as with all RESCUE! traps, placement is critical to get the best results The consumer should hang traps away from where the insects are causing a disturbance. So rather than placing it next to a rose bush, he recommends that home gardeners position the trap next to a non-flowering tree or shrub and at least 30 feet from ornamental plants, to lure beetles away from where they like to feast.
Hang the trap from a post or stake like the RESCUE!® Rod, four feet above the ground away from the desired foliage. And be sure to move it to a protected location during heavy rain or wind.
A common misconception is that traps lure Japanese beetles from miles around. However, most attractants lure the pests from 100 to 150 feet.
Once attracted to the pheromone scent, Japanese and Oriental beetles fly into the trap's large yellow panels and are stunned on impact; then fall into the attached bag where they can't escape and eventually die. The trap's unique durable double-layer nylon bag allows users to catch up to four times as many beetles than what's currently available and the new zippered bottom makes it easy to empty and reuse again and again.
"The trap is a time, money and energy saver that safely and effectively eradicates large numbers of Japanese and Oriental beetles, sparing yards and gardens from a potential beetle nightmare," Schneidmiller says.
For more information, visit http://www.rescue.com.
Established in 1982, Sterling International, Inc. offers the RESCUE!® Japanese & Oriental Beetle trap and other RESCUE!® traps and attractants for stink bugs, wasps, hornets, flies, and yellow jackets at home improvement centers, hardware stores and lawn & garden retailers throughout the U.S.