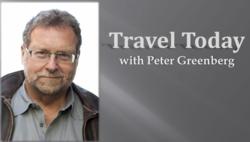 New York, NY (PRWEB) July 24, 2012
He's broadcast from a moving train, an airplane in mid-air, from remote islands in the Pacific, from the Nile in Egypt, and from a glacier in Greenland. Now Peter Greenberg's globetrotting radio show is taking over the podcast world.
Travel Today with Peter Greenberg is a destination-driven podcast adapted from his nationally syndicated radio show. Each episode airs from a different remote location around the globe with CBS News Travel Editor Peter Greenberg as your host.
Travel Today with Peter Greenberg is available on iTunes and Stitcher. Each show features experts sharing insight about the destination from a local's perspective. In his trademark, no-holds-barred manner, Greenberg uncovers the hidden gems about these destinations, and shares his advice on how to navigate the travel process like a seasoned pro.
Recent features include secret New York experiences that not even locals know about, from a primeval forest in the Bronx to a ship graveyard in Staten Island; avoiding the tourist traps in Buenos Aires, skipping tango shows in favor of immersive milongas and getting outside the city into rural – and genuine – estancias; a report from the scene by Colorado firefighters on the latest in the wildfire crisis and how the local community, hotels and resorts have been impacted; how to maximize your almost-impossible-to-redeem frequent-flier miles with creative routes and alternative airports; navigating non-refundable airfare and change fees without breaking the bank.
Peter Greenberg is America's most recognized, honored and respected front-line travel news journalist. He is best known as Travel Editor for CBS News, appearing on CBS This Morning, CBS Evening News with Scott Pelley, and CBS Sunday Morning, among other broadcast platforms. His terrestrial radio show, Peter Greenberg Worldwide Radio, is a 3-hour program that airs from a different location every weekend and is nationally syndicated by United Stations.
A multi-Emmy Award-winning producer and New York Times best-selling author, Greenberg is the consummate insider when it comes to reporting the travel business as news. He was named one of the most influential people in travel by Travel Weekly. And later this year he will be inducted into the U.S. Travel Association's exclusive Hall of Leaders for his significant contributions to the travel industry.
Get more travel news and travel tips from Peter Greenberg Worldwide.