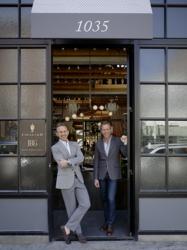 Cavalier is a destination for those who take their pleasures seriously.
San Francisco, CA (PRWEB) July 31, 2012
Established in 2012 in San Francisco, Cavalier: Handsome Goods for the Home unites the formidable talents of interior designer Jay Jeffers and Creative Director Michael Purdy. Jeffers, one of Elle Decor's 2012 A-List of the country's top designers, and Purdy, a strategic consultant for both fashion and design, have parlayed their shared sensibility for the bold, witty and urbane into a new retail experience. With its focus on finely-crafted goods for the home with a textured, masculine edge, Cavalier is a destination for those who take their pleasures seriously.
True to a code that celebrates all that is singular and luxurious, Cavalier showcases carefully-curated new, bespoke and vintage pieces. It is the exclusive source for Jeffers' debut collection of California-made furniture and accessories, as well as the sole stockist for a limited-edition selection of home furnishings and accessories created in partnership with designers from around the world, including metal smith Paul Benson and plaster master Stephen Antonson.
Cavalier's offerings include furniture by Austin-based Howl Interiors, vessels and objects by Brooklyn-based ceramist Shizue Imai, jewelry by San Francisco's Alex & Lee, Merida's new custom woven-wool Sweater Collection rugs, limited edition acrylics by Alexandra Von Furstenberg and Brooklyn-based Bellocq Tea Atelier's divine handcrafted blends. The store showcases fine art, lighting, cashmere and alpaca throws, leather goods, pillows, fragranced candles and books. Diehard globetrotters Jeffers and Purdy keep the Cavalier retail flagship fresh with new home décor discoveries, antiques and vintage pieces.
Cavalier is located in the Tenderloin, a burgeoning San Francisco destination for cutting-edge cafes, galleries and boutiques. Entering the atelier, housed in the front of Jeffers' 4,000-square-foot design studio, guests cross the threshold into a loft-like space with 18-foot ceilings that is fashioned as a stunning city flat. Vignettes of cast concrete, white plaster and charred-cedar furniture establish the unconventional aesthetic of the space. Blackened steel shelving showcases decorative accessories and objects, and a freestanding, backlit whitewall showcases fine art. Jeffers' bespoke Kingsley sofa anchors a gracious sitting area that invites lingering with a cup of tea or glass of wine (at Cavalier, imbibing and lounging are strongly encouraged).
Serving as a gracious gathering spot and a venue for special events including trunk shows, art exhibitions, wine tastings and book signings, Cavalier is a destination for seekers of all that is cool, uncommon and collected. Cavalier's offerings are sold to the design trade and to the public through its retail flagship and all collections are available online at http://www.cavaliergoods.com. Cavalier is open 11 AM-6 PM Tuesday to Saturday, and by appointment, at 1035 Post St, San Francisco.
For more details, photos or shop talk, please ring Alisa Carroll
at 415.690.0626 or alisa (at) carrollpr (dot) com