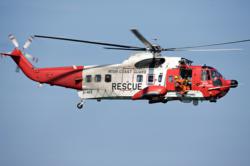 The California Highway Patrol is extremely grateful for the swift actions of these heroes. Thanks to the assistance they provided, Tony is alive today
Newport Beach, CA (PRWEB) July 25, 2012
In an unfortunate series of events earlier this month, California Highway Patrol (CHP) officer Tony Stanley suffered life-threatening injuries while performing a medevac rescue in the Shasta Trinity Forest. The CHP recently released a thank you to all of those who helped ensure the safety of the officers and hikers involved.
The incident occurred when Officer Stanley was struck by the CHP helicopter's rotor blade while attempting to provide emergency aid to an injured hiker. Coincidentally, the injured hiker was a U.S. Air Force Critical Care Pulmonologist and was able to fight through his own pain to help provide emergency assistance for the officer.
Joe Farrow, CHP Commissioner, issued a thank you to the hiker, as well as the officers who accompanied Officer Stanley in the medevac rescue.
"The California Highway Patrol is extremely grateful for the swift actions of these heroes. Thanks to the assistance they provided, Tony is alive today. I cannot even imagine the pain Dr. Kilburn was in, unable to walk, when he rolled down the hill to the location of our injured officer. Without regard to his own injuries and pain, Dr. Kilburn performed critical life-saving steps, ultimately saving the life of our officer," said CHP Commissioner Joe Farrow.
John Bisnar, managing partner of the Bisnar | Chase law firm, has been providing injury prevention resources for decades. The following are summer hiking safety tips released to Bisnar | Chase contacts.
Summer Hiking Safety Tips Provided By Bisnar | Chase
At Bisnar | Chase, we love to stay active and enjoy everything that nature has to offer. Summer hiking is a great way to get out, get moving, and stay fit. If you are planning to hit the trails this summer, keep the following safety tips in mind.

Never Hike Alone
Stock up on Basic Gear: a small first aid kit, matches, and a flashlight should be considered vital for any long hike
Know Where You Are Going
Stay hydrated
Be sure someone knows where you are going and when you expect to return
About Bisnar | Chase Personal Injury Attorneys Orange County
The attorneys at Bisnar | Chase represent victims of serious injuries and have developed a reputation as trusted professionals with proven results. Over the last 30 years, the Bisnar | Chase law firm has obtained nearly $200 million dollars in settlements and judgments on behalf of their clients. This has been accomplished with a 97.5 % success rate and "No Win No Fee Guarantee."
For matters involving a serious injury, call 800-561-4887, or visit their website at http://www.bestattorney.com.