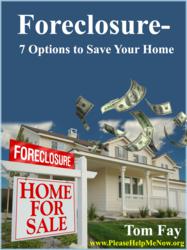 "There are ways to save your house. But more important is to save your home."
Aventura, Florida (PRWEB) July 24, 2012
A new book, "Foreclosure – 7 Options to Save Your Home," has been written by Tom Fay. The book is aimed directly at the homeowner who is either in foreclosure or is approaching losing their home to foreclosure. The book can be purchased in Kindle format at Amazon, or it can be downloaded for free in PDF format at the website, Please Help Me Now.org.
This book is a must-read for anyone whose home has entered into the foreclosure process, or is in such financial difficulty that a foreclosure is on the horizon, or for the person whose home is "underwater." The author has written the book in layman's terms so that the "legal" process is not so foreign to them.
The author, Tom Fay, has experienced a foreclosure in the past and knows firsthand the non-financial or emotional/psychological side of a foreclosure. He candidly shares his experience with the reader and helps to prepare the reader for the inevitable. This element of the book makes it worthwhile all by itself.
The book contains 7 options for the homeowner to save his home. In fact, there are more than 7 options available. The author understands that each homeowner is unique and prepares them for their ultimate decision and course to follow.
Mr. Fay was scammed at least twice when he was going through his financial problems and thus knows firsthand the schemes the scammers use and the feelings it produces. So the book lays out signs of scams to watch out for. It also gives some comfort if the reader has already been scammed.
Even though the book is very "technical" as to the foreclosure process, it is very "readable" because of the wise insights of the author. It is highly recommended to anyone in financial difficulty.
The author believes that knowledge is power and the more knowledge the homeowner has about the process and his options, the better chance he has for a positive outcome in saving his home.