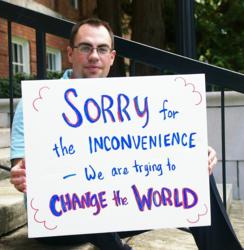 The Olympics are an ideal platform for protest, says a Linfield College professor.
McMinnville, OR (PRWEB) July 24, 2012
The Olympic Games are often perceived as a symbol of peace, but ironically also serve as venues for intense political contention, said Patrick Cottrell, politics professor at Linfield College.
The sports contests purport to be apolitical, but are consistently politicized, he said, and it's no wonder. "Up to 90 percent of the world's television sets tune in, and more states participate than belong to the United Nations, making the Olympics the largest regularly scheduled international gathering in the world.
"In many respects, they're an ideal platform for protest," Cottrell said.
"Protesters have access to an international audience, and because the Olympic Charter promotes a spirit of goodwill and universal peace, their causes gain symbolic meaning."
Cottrell said there has been a steady growth in protest activity since the first modern Olympics in 1896, with more than half the demonstrations taking place within the past 20 years. "Since the 1936 'Nazi Olympics,' no Summer Games have occurred without a political incident," he said.
The topics of protest have broadened, he said, and now include everything from minority rights to animal rights, and environmental issues to anti-globalization.
"There has also been a change of actors over the decades," Cottrell said. "State boycotts and bans have been replaced by groups like Students for a Free Tibet, Greenpeace and the Anti-Olympics People's Network. Although these activist groups are relatively small, they can wield unusual power.
"The Olympics setting reduces the ability of regimes to repress protesters and makes it politically difficult to use force," he said, "but countries are finding ways to neutralize dissent by isolating and restricting protesters.
"While those restrictions dampen participation, it's still true that even weak and disorganized challengers can ratchet up domestic and international pressure, and take on powerful, wealthy organizations."
In recent years protestors have even targeted the International Olympic Committee itself, Cottrell said. "The IOC has become a wealthy corporate entity fed by television and licensing revenues. The organization exercises immense political power, engaging in high-level diplomacy with governments and serving as an international gatekeeper," Cottrell said. "As such, the IOC decides who will host the Olympics, who can participate and which sports are included."
Cottrell publishes in the areas of international politics and foreign policy. Prior to his academic career, he worked at the U.S. Department of State in the Bureaus of Political–Military Affairs and Nonproliferation, including detail assignments with the Senate Foreign Relations Committee and the U.S. Consulate in Hong Kong.
Linfield College is one of the few schools in the Pacific Northwest dedicated exclusively to undergraduate education, offering degrees in arts, sciences and professional programs. The small college was named one of the nation's top picks for high school counselors across the U.S. and has been nationally praised for combining affordability and excellence. Linfield's park-like campus is located an hour from Portland, Ore., and an hour from Pacific Ocean beaches.