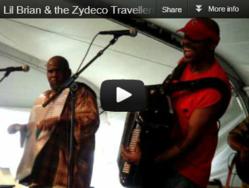 (PRWEB) July 23, 2012
Santa Fe Bandstand is a free summer music festival on the Santa Fe Plaza, produced by Outside In Productions and a crew that strives to present the city with a wide range of performers, who represent the diversity and wealth of musical talent in this region. Performances take place Monday to Thursday, through August 16, 2012. All shows are free and open to the public. During evening performances, the first act begins around 6 p.m., the headlining act performs at approximately 7:30 p.m. Santa Fe Bandstand is delivering Lil' Brian & The Zydeco Travelers and Boom Roots Collective to the stage from 6 to 10 p.m., Monday, July 30, 2012. The aforementioned concert and the entire Santa Fe Bandstand concert series is on the SantaFe.com event calendar.
Lil' Brian & The Zydeco Travelers —After he'd begun mastering the accordion, Terry and his brothers Rick and Pat formed a band with a few others. Their father became their biggest fan and sponsored them, making sure they had the instruments and amps they needed. Terry started out in the group as just another musician, but eventually became their leader. They got their start playing in local Houston zydeco clubs and at the annual Juneteenth Blues Festival. During the 1991 Zydco Festival in Plaisance, LA, he and the band received an award for Youngest Zydeco Band. From their they began opening for Buckwheat in an Austin club. Over the years the band has had a few membership changes, but as of the mid-'90s are still noted for having some of the best young zydeco musicians around. They are also known for updating the zydeco sound by adding elements of blues and hip-hop music.
BoomRoots Collective is reggae. Boom Roots Collective is Hip-Hop. Boom Roots is a mixture of Jamaican funk with New Mexican soul that most definitely works.
About SantaFe.com
SantaFe.com provides locals and visitors to Santa Fe alike the most current interactive platform for events, music, arts, business, dining and lifestyle. SantaFe.com is a division of Hutton Broadcasting, located at 2502 C. Camino Entrada, Santa Fe, NM 87507
Contact Information:
Scott Hutton
SantaFe.com / Hutton Broadcasting
http://www.santafe.com
(505) 471-1067 (Media inquiries only, please)