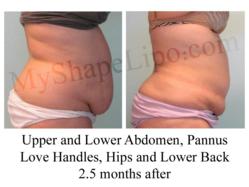 Fight obesity with large volume liposuction
Las Vegas, NV (PRWEB) July 25, 2012
With obesity running rampant throughout the country, MyShape Lipo has launched an initiative to fight obesity through large volume liposuction to dramatically improve the health status of many patients. According to the CDC, more than one third of U.S. adults (35.7%) are obese. The medical costs related to obesity were estimated at $147 billion. Obesity puts individuals at much higher risks for diseases such as diabetes, heart disease, high blood pressure and stroke. Carrying the extra weight also leads to many physical ailments such as arthritis of the knees and hips, back pain and ligament damage.
Most obese individuals believe that diet and exercise are their only option and when that fails they are left feeling hopeless. Removing large volumes of fat can have many benefits other than cosmetic results. Patients have seen notable improvements in their mobility, lower blood pressure,reduce cholesterol and better blood sugar control for diabetics. Trevor Schmidt PA-C, the liposuction specialist at MyShape Lipo can remove upwards of 5-6 liters of pure fat in a single treatment, leaving his patients with significant reduction in their size.
A significant reduction of fat in the abdominal area can make the little things much easier. Simple tasks like getting up from a sitting position, tying ones shoe, walking stairs or basic hygiene can be much easier after large volume liposuction. Some patients have even noticed that their breathing improves with the reduction of fat putting pressure on their chest.
A study presented at the American Society of Plastic Surgeons found that patients on average had a 43% reduction in "bad cholesterol." Being obese can lead to much higher risks of life threatening diseases such as diabetes, heart disease (#1 killer), and stroke. Through a simple procedure of liposuction, patience can significantly reduce their risk factors and possibly add years to their life.
While their are no current studies to date, the patients at MyShape Lipo report lower blood pressure and better control of their diabetes. Diabetes and blood pressure are known by many as "silent killers," because so many people fall victim yet there are no big obvious symptoms until it is too late. Many diabetics have difficulty changing their lifestyles because they don't see the consequences until they have lost their sight, or lost a limb due to infection. An easy step today to get liposuction will not only make you look and feel better, but also improve your health.
Improved quality of life, reduced risk factors and better control of your health problems are but a few of the benefits of large volume liposuction. Many people are drawn to the procedure for it's cosmetic value to make them look better and improve their self esteem. For those that are among the 35% of adults that struggle with obesity, large volume liposuction may be the answer these individuals have been searching for to significantly improve their look as well as their health.
MyShape Lipo is a liposuction specialty clinic located in Las Vegas. Patients have been flocking from around the country for the experience of over 10,000 procedures and affordable, simple prices. Visit them online at http://www.MyShapeLipo.com or call 702-818-5476 for your complementary consultation.