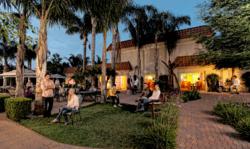 Passages Ventura is a world class facility, and it is now represented with a world class website that features all of the things we have to offer.
Ventura, California (PRWEB) July 24, 2012
The Passages Substance Abuse & Addiction Treatment Centers are pleased to announce the launch of the new and improved, upgraded website (here: http://www.passagesventura.com) to promote Passages Malibu's sister facility, Passages Ventura. The new site, which launched over the weekend, offers updated informative content, photo tours, and information regarding the unique Passages Addiction Treatment Philosophy. The site will also feature more user-friendly navigation, improved aesthetics and layout as well as additional ways to interact with the Passages brand via social media outlets, such as verified Google+ profile, Facebook, Twitter, new Pinterest board, and fully redesigned YouTube channel.
"I'm very excited for the launch of the new Passages Ventura website," says Pax Prentiss, CEO and co-founder of Passages Ventura and Passages Malibu. "At Ventura, our clients receive lots of one-on-one therapy, beautiful accommodations, and the same philosophy which is used to treat our Malibu clients-but at a lower price point. Passages Ventura is a world class facility, and it is now represented with a world class website that features all of the things we have to offer."
The new, redesigned website is just one of the many ways that Passages is rapidly developing and improving in the 2012 year. Passages Ventura drug and alcohol substance abuse treatment center celebrated three years on May 17, 2012 and has successfully treated over a thousand clients. After eight years of successfully treating clients at the luxurious setting of the Passages Malibu Rehab Center, co-founders Chris and Pax Prentiss decided to open the Passages Ventura location in the small beach city of Port Hueneme, California, as a way for people who could not afford Passages Malibu to still be treated with their unique, holistic, non-12 Step approach for addiction treatment.
Prentiss is confident that the new website will increase the Ventura location's growth exponentially. "Passages Ventura is really starting to pick up momentum and become a world class treatment center," says Prentiss, a former drug and alcohol abuser who will be 12 years sober this September. "Passages Ventura is a great opportunity for people who can't afford the Malibu program, but still want the Passages experience. We encourage anyone who thinks that they can't afford treatment to check out our new website, call in and learn about our pricing options. It really is accessible for everyone, and our goal is to be able to treat as many people as possible." When Passages Ventura first opened in 2009, the census would average 20 clients per month. Today, the facility has an average census of 45 clients per month and has even reached 60 at its peak.
Passages introduced an entirely new way of looking at addiction, which is reflected in their Ventura addiction treatment program. The treatment program at Passages Ventura features individual counseling, marriage and family therapy, acupuncture, acupressure, hypnotherapy, life purpose counseling, spiritual counseling, and healthy living (yoga, physical fitness training), among others.
"Our Ventura program incorporates numerous holistic treatment methods that ensure each and every one of our clients gets a customized, well-rounded experience," explains Prentiss, "and PassagesVentura.com is an exciting new way to showcase our cutting-edge treatment methods to the world."
Passages Ventura has reinforced its position as the forerunner of both affordable and quality substance rehabilitation as it continues to pave its own path of success. Both Passages Malibu and Passages Ventura accept insurance and earned the coveted JCAHO (Joint Commission on Accreditation of Healthcare Organizations) accreditations, which has only been given to 6% of the nation's behavioral health treatment programs.
At Passages Malibu: "Addiction Ends Here™"
About Passages Malibu & Passages Ventura:
Founded by Chris Prentiss and Pax Prentiss, Passages Malibu opened in 2001 with its second location, Passages Ventura, opening in 2009. The two drug and alcohol abuse treatment centers offer an alternative to the 12-step/AA model of addiction treatment by taking a holistic approach with a program that focuses on the underlying issues of substance dependency, rather than suggesting that addiction is an incurable disease. Passages Malibu and Passages Ventura have earned the coveted JCAHO (Joint Commission on Accreditation of Healthcare Organizations) accreditation, which has only been given to 6% of the nation's behavioral health treatment programs. The co-founders are also authors of the acclaimed series of treatment books that include their groundbreaking flagship book, "The Alcoholism & Addiction Cure." For general inquiries about treatment, contact: 866-233-1753
For more information on Passages Addiction Rehab Centers visit:
Passages YouTube Channel
Passages Facebook Fan Page
Passages Pinterest Boards
Passages Google Plus Page
Follow Passages on Twitter
For media inquiries, contact:
press(at)passagesmalibu(dot)com