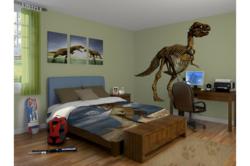 Pierre, SD (PRWEB) July 25, 2012
The recent resurgence of interest in dinosaurs is behind the huge expansion of designs available for VisionBedding's custom blankets, comforters, and duvets; but what's behind the sudden surge of current interest in dinosaurs? CEO and Founder of VisionBedding, Justin Poile, laughs at the idea that it's attributable to the recently raised possibility that their own flatulence brought about the extinction of dinosaurs. Comedy Central has been getting its share of laughs from this theory, that these long-gone marvels gassed themselves right off the face of the earth, and there are no 3D raptors escaping from prehistoric parks in blockbuster films this summer, so maybe it is this comedic discussion that has brought dinosaurs back to the forefront of popular imagination.
For those who grew up with Pebbles for reference, the designs in VisionBedding's dinosaur bedding galleries are astonishingly life-like, from the gleaming eyes and snarling jaws of a Tyrannosaurus Rex to a sun god of dinosaurs, spiked disc around its head, stalking a forest floor like the precursor of rhinos. With the long necks of Diplodocus snaking up into blue grey skies and an Elasmosaurus seemingly floating in deep blue seas, dinosaurs fill the ocean depths and cloud-streaked heavens of this custom bedding imagery.
More than 500 designs now bring dinosaurs back to life in VisionBedding's website, thundering across desolate desert floors under brilliant skies or prancing like a speckled lizard in a sunny glade. For kids and moms who want that playful pal they found in Pebbles, there are dozens of designs that put colorful dinos on baby and toddler bedding, caught in a crazy traffic jam on a country road crossing its hills or popping out of a shell like a turtle in a diaper. Even those gummy dinosaurs that used to slide over the ends of pencils are there, sparking a little romance between grape and lime lovers.
Whatever explains the renewed popularity of dinosaurs, it's led to an unfolding of scientific discovery and stunning artistic portrayals in VisionBedding's expanded bedding galleries. Guaranteed not to release life-threatening gases.