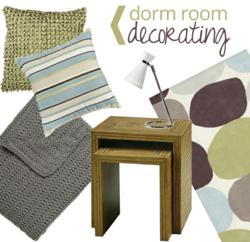 Students intuitively understand how to decorate more with less
Los Angeles, California (PRWEB) July 26, 2012
This back-to-school season, the Lamps Plus design team has compiled a few dorm furniture and decorating tips to help students transform campus housing into a comfortable home away from home. Accessories and lighting can be mixed, matched and multi-functional to fit all the needs of college living into the notoriously cramped quarters of the dorm room. By following some simple, low cost design ideas, incoming freshman (and their worrying parents) can enjoy peace of mind about their new school accommodations.
"Small dorm spaces require big design thinking," explains Lynda Gould, Lamps Plus design expert and Corporate Interior Design Manager. "Everything in your room should serve multiple purposes. I love storage ottomans and trunks because they open up to stow all your essentials, and can provide extra seating for in-room get-togethers. Nesting tables serve that purpose too. Use the top one as a bed stand, and simply pull out the tables nested beneath when you need impromptu seating." To keep organized and clutter free, rustic decorative boxes offer a stylish solution, but for even the most organized student, space is limited in the dorms. "My secret weapon for small spaces? Mirrors. They visually double the size of a room and they definitely come in handy on mornings when the communal bathroom is jam-packed."
Students will inevitably do a lot of reading at college. To soothe tired eyes, Gould offers some simple lighting tips. "Adjustable task lighting is excellent to study by, and can be stylish too. Face desk lamps down for plentiful light when studying. When you're done, add a little ambience to your room by flipping the adjustable lights up toward the ceiling for a torchiere effect. For all-night cram sessions, try clip-on reading lights, as they won't wake your roommate." LED book lights offer a full spectrum of light, making them an increasingly popular and energy-efficient option.
With institutionalized furniture, palettes and floor plans, dorm rooms would appear to conform students to a standardized lifestyle at precisely the time when most are branching out to discover their individual identities. "There are a few low-cost tricks to break the mold and let your room reflect your self-styled status," offers Lesley Myrick, designer and blogger at Lamps Plus. "Start with wall art. Personalize your place by putting a picture frame around your favorite magazine pages or drawings. Replace drab shades with your favorite colors. Or better yet, design your own lamp shade! Lamps Plus offers a simple online tool to customize lamp shade colors and styles."
Myrick is quick to note the importance of tending to creature comforts too. "Soften your space with textiles. Accent pillows and throw blankets can really warm the room. The industrial flooring of most dorms is built to stand up to heavy use. I definitely recommend a rug to put a little comfort beneath your feet. Find a fun look – try a retro shag or natural fiber rug – to fit your style."
Parents should be comforted to know that with smart design thinking, the high price of college doesn't need to extend to accommodations. "Use and re-use," summarizes Gould. "The same throw that styles your bed could serve as a wall hanging or a picnic blanket. College students are innovative, expressive and fun. They will intuitively understand how to design more with less." For more inspiration and ideas, students can explore the Lamps Plus College Dorm Decor Pinterest board.
About Lamps Plus
For more than 30 years, Lamps Plus has been synonymous with excellence in the lighting retail industry. Established in 1976, Lamps Plus is the nation's largest specialty lighting store, with more than 40 superstores throughout the western United States. Together with their retail lighting stores and online business, Lamps Plus serves customers nationwide with the largest selection of functional and decorative lighting fixtures, accessories, furniture and home décor. This selection includes hundreds of products available exclusively from Lamps Plus. Services include in-home lighting consultations, in-store lighting workshops and installation from expert, licensed electricians. American Lighting Association certified lighting designers are available to offer product recommendations and lighting advice in all our stores, by phone or online at LampsPlus.com.