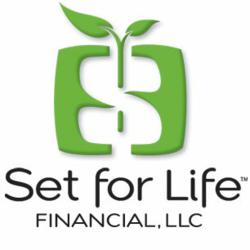 Set for Life's Mission is to provide the education, tools, resources and support people need to make confident, informed decisions about their financial future.
Scottsdale, Arizona (PRWEB) July 24, 2012
Tim Rocho, CEO of Set for Life Financial, is proud to be the inaugural sponsor of the Employee Benefit News (EBN) and Employee Benefit Adviser (EBA) first national "Financial Fitness Challenge". Eighteen organizations will compete in a 5-week online financial wellness program, developed by the Educated Investor, beginning July 23rd and concluding on August 31st.
Today, almost 50% of employees have difficulty keeping up with monthly expenses.The program's goal is to provide participants with a fun and interactive opportunity to learn how to and better manage their finances, avoid and reduce debt, and make critical decisions on banking, retirement planning, insurance, and other company benefits.
Organizations participating include Major League Baseball, Kimberly-Clark, Fidelity National Financial, St. Elizabeth Healthcare, Goss International, and more. Among the employers, 5000 employees have already registered to participate. The Challenge results will be announced at the EBA/EBN "Defining the Future of Employee Benefits" Conference in Phoenix September 9-11.
"Several benefit and HR managers have told us that third party financial education is the biggest gap in their benefits offering today, says Tim Rocho. And not only do employers recognize the need for financial education, employees do too. The 2012 Consumer Financial Literacy Survey reported that 4 out of 5 adults believe they could benefit from additional financial knowledge".
The "Financial Challenge" programs are scalable, cost effective, deliver 404c ERISA compliant education and produce measureable results with participants.
A recent report by the President Barack Obama's Advisory Council on Financial Capability outlined the need for adults to have better access to financial education as lack of financial literacy continues to be a key issue in the workplace. According to the Council:

67% of Americans are stressed about money,
78% of employers believe that financial stress contributed to employee inefficiency,
Two-thirds of employers contributes to health costs in their company, and
Employee Assistance programs have seen an 88% increase in requests for financial help.
Set for Life's first SFLUniversity initiative was a 12-week "Financial Challenge" program contained 10 custom lessons including credit, insurance, budgeting, retirement planning, and others. The results of the Challenge were significant: Sixty-seven percent of the people who started the Challenge completed all 10 lessons and participants had an overall 36% increase in knowledge!
We custom built a comprehensive online portal to house the education and promote Wyoming financial literacy. http://www.wyomingmoneysmarts.org is a destination site that contains a blog, an overview on the Financial Challenge for sponsors, employers and participants, a page for enrollment for each of the employer groups, and the login for the educational modules.
Since last fall, Wyoming MoneySmarts has been ranked as one of the top Wyoming financial literacy and education destinations on Yahoo and Google.
Tim Rocho, CEO of Set for Life, says, "We're a 'One Stop Shop' for personal finance and banking. We built our company to align with the Mission, Vision and Goals set out by the U.S. Financial Literacy and Education Commission's Strategy to achieve 'sustained financial well-being for U.S. individuals and families.
"That is why we are excited to a partner the "Financial Fitness Challenge," with EBA and EBN as they have significant reach in the employer community. Their online and hard copy publications, encompass about 80,000 readers and 35,000 companies that account for almost 65 million employees and family members.
"Our Mission is to provide the tools, resources and support for people to achieve their financial goals. It's all about financial inclusion. People need information and resources to make confident, informed choices. That's why we exist."
About Set for Life Financial, LLC
Set for Life Financial is an Arizona based company offering financial education, tools and other resources directly to the public and through partners and employer organizations. Our online community portal combines financial literacy educational modules, prepaid debit cards, online money management tools and other resources to help members achieve financial success. The Set for Life community aims to provide members with online and mobile access to their latest financial account information so that they can simply manage their financial goals as well as day-to-day finances through one destination.
For more information about Set for Life Financial, please visit http://www.setforlife.com
Set for Life Financial, LLC.
Arizona State University - Skysong
1475 N. Scottsdale Rd Suite 200
Scottsdale, AZ 85257
480-855-1299 phone
480-786-5121 fax
support(at)setforlifefinancial(dot)com
http://www.facebook.com/sflfinancial
http://www.twitter.com/getsetforlife