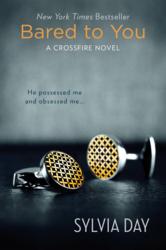 'Bared to You' was an instant bestseller, debuting at #4 on the New York Times trade paperback fiction bestseller list, a position it has now held for five weeks.
New York, NY (PRWEB) July 24, 2012
After gaining major buzz from readers and hitting several national bestseller lists as a self-published novel, "Bared to You" by Sylvia Day was acquired by Berkley Books and has now become a media sensation and one of the fastest-selling books in the country. Berkley published its slightly revised edition on June 12 with a 500,000-copy first print run. "Bared to You" (Berkley Trade Paperback; June 12, 2012; 978-0-425-26390-7; $15) was an instant bestseller, debuting at #4 on the New York Times trade paperback fiction bestseller list directly behind the Fifty Shades trilogy, a position it has now held for five weeks. The book has also made several appearances in the top 10 of USA Today's bestseller list. Berkley released its eBook edition of the popular novel on May 24 and has already sold more than 250,000 eBooks (after Day sold 100,000 digital copies of the self-published edition).
Since Berkley took over the publication of "Bared to You," media interest has exploded. The book has been featured in USA Today three times, including a mention on the front page of the "Life" section in an article on the popularity of erotic romance. The book has also been covered by TIME, Entertainment Weekly, Variety, the Chicago Sun-Times, the Detroit Free Press, CNN.com, The Daily Beast, Glamour's website, SELF's website, Parents' Mom Must Read blog, and Sirius XM's "Cover to Cover." The editors at Amazon selected "Bared to You" as their top pick for "Best Books of the Year so Far" in the romance category. The social networking site Goodreads recently named "Bared to You" one the most highly shared, ranked and reviewed novels on its site. The book is also one of the top recommended novels by readers on Goodreads' App for Facebook.
And "Bared to You" is not just a success in the US. The book has spent six weeks on Canada's The Globe and Mail bestseller list. Penguin UK released its eBook edition on May 28, selling thousands of copies each week, and released the paperback edition on July 19 with 465,000 copies in print. Berkley Español will release a Spanish-language edition that will be sold in the U.S., Latin America, and Puerto Rico. Foreign rights have been sold to twenty-six territories, including Germany, France, Italy, The Netherlands, Spain, Hungary, Portugal, Brazil, Greece, and Korea.
Author Sylvia Day originally self-published "Bared to You," offering it as an eBook and a print-on-demand title. The buzz for the erotically-charged novel began within days of the April 3 publication—reviewers across the internet compared the book (favorably) to Fifty Shades of Grey. "Bared to You" immediately jumped into the list of top 40 bestselling eBooks at both Amazon and Barnes & Noble. The book climbed to #20 on the New York Times eBook bestseller list and #69 on the USA Today bestseller list as a self-published novel.
"Bared to You" is the first book in the Crossfire trilogy about recent college graduate Eva Tramell and billionaire Gideon Cross. The book finds Eva accepting her first job at an advertising firm located in the New York City skyscraper owned by Gideon. When she and Gideon first meet, the chemistry is overwhelming and instantaneous. But both Eva and Gideon bear emotional scars, and a healthy romantic relationship is foreign to them. The trilogy explores the developing physical and emotional relationship of these two complex characters.
Readers are clamoring for the next installment in the Crossfire trilogy, "Reflected in You," which is set for release on October 2, 2012. The book is already sitting in both Amazon's Top 100 and Barnes and Noble's Top 100—three months out from publication. The third book, "Entwined with You," is set for release in early 2013.
"Bared to You"
by Sylvia Day
Berkley Books
eBook on sale: May 24, 2012; 978-1-101-60478-6
Trade Paperback on sale: June 12, 2012; 978-0-425-26390-7
Sylvia Day is the internationally bestselling and award-winning author of over a dozen novels written in the romance and urban fantasy genres under three pen names. A wife and mother of two, she is a former Russian linguist for the U.S. Army Military Intelligence. She lives in San Diego, CA. Visit her website at http://www.sylviaday.com.
Penguin Group (USA) Inc. is the U.S. member of the internationally renowned Penguin Group. Penguin Group (USA) is one of the leading U.S. adult and children's trade book publishers, owning a wide range of imprints and trademarks, including Berkley Books, Dutton, Frederick Warne, G.P. Putnam's Sons, Grosset & Dunlap, New American Library, Penguin, Philomel, Riverhead Books and Viking, among others. The Penguin Group is part of Pearson plc, the international media company. http://www.penguin.com