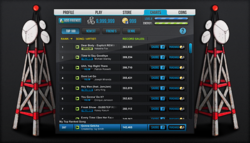 When players create something truly unique and amazing, they now have the opportunity to achieve internet fame
Atlanta, GA (PRWEB) July 24, 2012
Mowgli Games announced today the implementation of the new Facebook "follow" action along with its innovative charts feature. Music enthusiasts can follow their favorite Songster DJs to keep up with future mixes. As one of the first Facebook games to use the "follow" action, Songster seeks to set the standard for the type of quality content Facebook users will be interested in following.
Songster's new charts feature creates a place where the best user-created songs are presented to the Songster community as a whole. The chart ranking system is based on the actual viral traction of users' songs by tracking "Likes" "Comments" "Shares" and "Downloads". With thousands of songs being created each week, players wanted a way to discover the best mashups and compete with fellow artists for celebrity status as the best DJ.
When a user follows someone in Songster they will see that user's new songs in their Facebook news feed. This valuable content makes Songster's integration of the "follow" action more compelling than any other game. While the typical Facebook game posts requests and high scores, Songster allows users to share something better: unique and original songs.
"We believe the introduction of charts and the Facebook follow action is the next logical step for Songster," said Marshall Seese, Jr., CEO of Mowgli Games. "When players create something truly unique and amazing, they now have the opportunity to achieve internet fame."
About Mowgli Games
We are Mowgli, a gaming company based around a simple concept – connecting people through social creation. Mowgli was launched in Atlanta in 2011 by Marshall Seese, Jr., Adam Kunz, and Mike VanBeneden out of a desire to change the quality of social games played online. The company is in the middle of a second round of fundraising and has cumulatively raised over $700,000 from angel investors based on its unique concept and social enterprise business model. Mowgli creates games that encourage and enable creativity and social connections – real social creation.