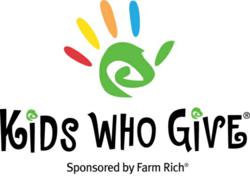 St. Simons Island, GA (PRWEB) July 25, 2012
Inspired by the challenges of their peers, the winners of the Kids Who Give contest for spring 2012 have one common goal: to make the lives of other young people better. Farm Rich has recognized these extraordinary kids who each have started foundations to fight for causes they believe in – from helping children who can't even afford shoes for their feet, to funding cleft palate surgeries, to teaching tennis to the visually impaired.
Kids Who Give is a national program focused on young people, ages 7-17, who put their time, energy and hearts into helping others and making the world a better place. Sponsored by Farm Rich, the contest awards winners each quarter with donations to their favorite causes. All quarterly winners from 2012 will be entered into an online voting competition at the end of the year to be eligible to receive a $10,000 grand prize.
Each quarterly first place winner receives $3,500, with the second and third place winners receiving $1,500 and $1,000, respectively. Honorable mention is awarded a $250 gift card.
The spring 2012 Kids Who Give winners are:
First Place: Nicholas Lowinger, 14, Cranston, R.I.
Nicholas Lowinger began volunteering at local homeless shelters when he was six years old. He noticed that many children lacked proper footwear and donated his own shoes when he outgrew them, but knew he wanted to do more. Nicholas started the Gotta Have Sole Foundation, which gives new shoes to children in homeless shelters in several states. Nicholas has personally delivered and shipped shoes to more than 4,800 of these children, including 100 pairs for the children of 9/11 first responders at a commemorative event last year.
Second Place: Christopher Yao, 15, Jericho, N.Y.
Christopher Yao was determined to help children with cleft palates after undergoing treatment for his under-jaw bite in middle school. The Smile Train Read-A-Thon, which he started in 2007, has funded sixty cleft palate surgeries. Christopher also founded Kids Change the World (KCW), which is a non-profit organization that provides young people with the tools they need to change the lives of other children around the globe. KCW has more than 19,000 volunteers and supporters across 34 countries.
Third Place: Sejal Vallabh, 17, Newton, Mass.
Sejal Vallabh first learned about teaching tennis to the visually impaired during an internship in Japan. Once she returned, Sejal founded Tennis Serves, a student-run non-profit that now has three chapters in the U.S. Through this program, sighted high school and college volunteers teach tennis at blind schools across the country with adapted equipment and comprehensive curriculum developed in partnership with the Japanese Blind Tennis federation.
Honorable Mention/"Pat on the Back Award": Kennedy Kulish, 14, Lancaster, Pa.
Kennedy Kulish was inspired to help children with heart conditions after her younger brother, Kaeden, had three open-heart surgeries before his first birthday. At six years old, Kennedy founded Kisses for Kaeden, a non-profit that raises money for children with heart defects. So far they have raised $151,000 for various organizations and Kennedy also donates her time as a junior volunteer firefighter and member of the Girl Scouts.
"What's especially remarkable about many of our entries, the winners included, is that these are kids helping other kids," said Jennifer Meetz, Farm Rich director of marketing. "They have recognized a need in their own peers and have taken it upon themselves to make a difference."
Visit http://www.kidswhogive.com to find out more about the contest. Applications for the summer quarter are now being accepted. The next deadline is Sept. 30, 2012.
About Farm Rich
A leading brand of Rich Products Corporation, Farm Rich (http://www.farmrich.com) is based in St. Simons Island, Ga., and features a successful portfolio of frozen snacks and appetizer products sold at grocery and club stores nationwide. Featuring the tagline, "Keep 'em Happy," Farm Rich makes wholesome, great-tasting snacks that are sure to please family and friends. More at http://www.farmrich.com.
Editor's Note: Please visit the http://www.kidswhogive.com newsroom for additional information, art and resources.