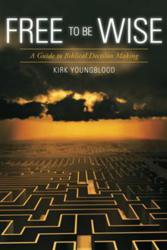 (PRWEB) July 25, 2012
PARKER, Colo. – Kirk Youngblood's new book "Free to Be Wise: A Guide to Biblical Decision Making" (published by CrossBooks) is designed to help people make decisions from a biblical perspective by discussing 13 faulty ways of discerning God's will and pointing toward the way of wisdom.
"For years as a pastor I have seen people struggle with how to make decisions in a biblical manner," says Youngblood. "This book is intended to free people up to employ biblical wisdom to everyday life situations instead of being held captive by the notion that God will speak to them directly apart from Scripture."
About the Book
"Free to be Wise" grew out of Youngblood's doctoral study. As part of his research, he consulted more than 60 books, incorporating the ideas within each that he found valuable into the work that would become this book. Youngblood provides, throughout the text, footnotes so that interested readers can go back to his original sources for more information.
"There are a number of ways Christians pursue faulty subjectivism," Youngblood observes. "Some are reading circumstances. Some are plopping open the Bible. Some are depending on inner impressions." That varied reaction to seeking God's will is what led Youngblood to pen "Free to be Wise."
About the Author
Dr. Kirk Youngblood has a Bachelor's degree from Oklahoma Baptist University, a Master's of Divinity from Midwestern Baptist Theological Seminary, and a Doctor of Ministry in expository preaching from The Master's Seminary. He serves as pastor of Parker Bible Church in Parker, Colo. He and his wife, Julie, have four married children and five grandchildren.
CrossBooks, a division of LifeWay Christian Resources of the Southern Baptist Convention, is a Christian publishing imprint committed to bringing more Christian voices into the publishing industry. Established authors, first-time authors, and authors anywhere in between can meet their goals and fulfill their vision for their books by publishing with CrossBooks. CrossBooks' innovative style of publishing blends the best of traditional and self-publishing. While our authors contribute monetarily to cover the cost of publishing, we maintain a strict moral and quality standard that every manuscript must meet for us to publish. For more information on publishing your Christian book with CrossBooks, log on to crossbooks.com or call 1-866-879-0502.
###