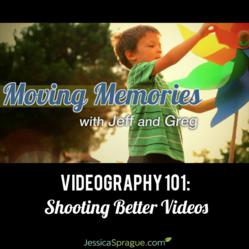 Apex, NC (PRWEB) July 24, 2012
JessicaSprague.com, the leading website offering online classes and products for digital crafters, announces a new series of videography and video editing classes – Moving Memories with Jeff and Greg.
The series of videography and editing production classes will be taught on JessicaSprague.com by Jeff Smith and Greg Winters. Jeff and Greg will tap into their knowledge of cameras, lighting, audio, and editing from years in the television and film industry to teach tips on how to improve home video production skills.
The series will move through beginner, intermediate and advanced level classes covering a range of topics including videography, audio, lighting, editing and how to think like a professional. Each class will include video instructions, printable tips and assignments.
"I am thrilled that we have been able to partner with Jeff and Greg for this new series. Moving Memories is like nothing else we have offered on our site before." said Jessica Sprague. "The series will give our customers the knowledge and tools they need to turn their home movies into professional looking movies."
Videography 101: Shooting Better Videos
The first class in the Moving Memories Series – Videography 101: Shooting Better Videos – is open for registration and will be available on August 6th. This beginner level class will teach basic techniques to improve shooting video with a camcorder, digital SLR or even a camera phone.
Videography 101 is currently on sale for $30. Like all classes at JessicaSprague.com, once purchased they are available to the user forever.
To learn more about the first class and to register visit: http://bit.ly/MovingMemories101.
About Jeff Smith
Jeff is an award winning photojournalist and producer who has worked for NBC, ABC, FOX, and PBS over his 20 plus year career in broadcasting. He was nominated for an Emmy for a PBS series he produced following a family dealing with Breast Cancer. Jeff has produced documentaries on the Navy and Air Force, Education in China, Childhood Obesity, and even a Blind Marathon Runner.
With a degree in TV Production, Jeff has traveled the world shooting, editing, and writing for broadcast and internet publications. Currently he still works as a producer/reporter for a TV Network and owns his own production company. Jeff is married and has two children. In his very little spare time you can find Jeff on the golf course.
About Greg Winters
Greg Winters has had a successful career in the film and television industry. He has been immersed in writing, directing, producing and lighting since 1996. Throughout his career, he has produced multiple projects and has won a Telly award for a video on the Carolina Ballet. He even had the opportunity to work on the academy award winning documentary, Bowling for Columbine. But for Greg, his career took shape when he was a young man.
"When I was 12 years old, my dad bought a VHS-C camcorder and I took it away and immediately connected with it. I knew that somehow that camera was going to be a part of my future. By the way, my dad was never able to touch 'my' camera from the day he brought it home."
From that moment on, he constantly researched, trained, and learned to perfect his craft. Additional projects Greg has been involved in include commercials, documentaries, television shows, and feature films with companies such as HBO, ESPN, NHL, NBC and HGTV, Good Morning America, Sony Music.
Greg is married and also a father of three crazy kids. In his spare time he looks for spare time. So far he hasn't found much.
About JessicaSprague.com
JessicaSprague.com is the leading website offering online classes and products for digital crafters. Founded in 2007 by world-renowned crafter, scrapbooker, instructor and author Jessica Sprague, JessicaSprague.com provides professionally designed, video-based online classes in Photoshop and Photoshop Elements for customers interested in learning about digital scrapbooking, photo editing, mouse-and-paper crafting, and more. The site's mission is to provide instruction, inspiration, and products to help people grow their skills, beautify their lives, and enhance their relationships with the people that matter most to them. The website's offerings include digital scrapbooking paper, digital brushes, digital element packs, lesson packs, weekly tutorials, and online classes in digital scrapbooking, mouse-and-papercrafting, photo editing, and more.
###