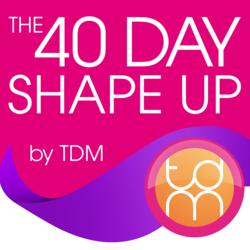 Eating right for your body type is simple and effective way to balance hay-wired hormones.
Chicago, IL (PRWEB) July 25, 2012
No packaged foods. No monthly fees. No heavy weights. No dieting. This is what health and fitness expert, Traci D Mitchell, says no client of hers will ever have to worry about to look and feel great doing her new program, The 40 Day Shape Up. Built around 20 body weight workouts and six weekly meal plans (shopping lists included), the Shape Up recently concluded a 200-person trial yielding phenomenal results.
"I expected people to lose the pounds or inches," Mitchell said, "but I was absolutely blown away when diabetics doing the Shape Up came to me half way through the program saying that their blood glucose levels were lower than they had been in years. That was very validating."
Mitchell, a personal trainer and nutrition coach is a self-described reformed borderline couch potato. Her love of nutrition and fitness comes from a close call ten years ago when she suddenly contracted the flesh eating bacteria. "I knew I was sick because I wasn't living healthy. My immune system was compromised. I needed to shape up."
And shape up she did. Last year, Mitchell made an appearance on The TODAY Show talking about foods that are right for your body type. Since then, she created The 40 Day Shape Up, which is structured around participants self-assessing their body type (apples, pears, athletes or babyfaces) and their fitness level, then plugging in the appropriate meal plans and workouts that work best for them. "Hormones play a big role in weight gain, weight loss, energy and overall health. Eating right for your body type is a simple and effective way to balance hay-wired hormones," Mitchell stated.
A majority of the workouts are done using body weight only, and those that aren't, require nothing more than a light weight or common household objects. "Fitness and food make or break our health. Obsessing about diets, calories and how long a workout is won't solve any of the problems we're facing today," explained Mitchell. "We need convenient, effective workouts and real, everyday foods. That's the Shape Up in a nutshell."
Related Resources
The 40 Day Shape Up: http://www.40dayshapeup.com
Traci D Mitchell: http://www.TraciDMitchell.com
Traci D. Mitchell is available for interviews and can be reached at 773-655-9500.
CONTACTS
The 40 Day Shape Up
Traci D Mitchell: 773-655-9600
traci(at)tracidmitchell(dot)com