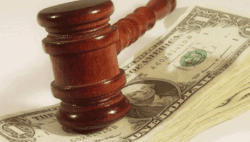 Employees who were injured while on the job due to an unsafe work environment and who are pursuing legal action can get a lawsuit settlement cash advance from AnyLawsuits.com easily
(PRWEB) July 26, 2012
AnyLawsuits.com, provider of lawsuit settlement loans, is now offering cash advances to plaintiffs in workers compensation lawsuits, so they are able to find financial security during personal and health-related hardships.
Unsafe work environments, while unlawful, still exist. Because of this, there are still many employees who are injured while on the job. Whether the injury is minor or severe, employees who cannot return to work right away, or ever, deserve compensation and consideration for their injury on the job. Unfortunately, workers compensation lawsuits can take a long time to settle, and while plaintiffs are awaiting court decisions, bills can pile up and bank accounts can dwindle.
In order for plaintiffs to make sure they can pay their bills before they receive a decision on their case, lawsuit funding is available to provide extra cash when it is truly needed.
Employees who were injured while on the job due to an unsafe work environment and who are pursuing legal action can attain a lawsuit settlement cash advance from AnyLawsuits.com easily. Now, borrowers who receive these loans from will have a little financial security while awaiting a court decision on their case; and for a person who cannot work, or has to wait to heal before returning from work, these funds can help make ends meet.
Lawsuit funding from AnyLawsuits.com allow borrowers to continue living their normal lives while awaiting lawsuit decisions. With non-recourse cash advances from AnyLawsuits.com, plaintiffs are able to pay bills and support their family members without having to settle for a lesser payout in a shorter amount of time. In addition, AnyLawsuits.com does not collect any payment if the plaintiff does not with their case, meaning borrowers can rest assured that their representatives are making the best effort to win the best case possible for their client.
In addition to funding workers compensation settlement loans, AnyLawsuits.com will fund wrongful termination suits, labor law disputes, and car accident lawsuits, while always working toward the best value of any case.
With the help of lawsuit funding from AnyLawsuits.com, plaintiffs can heal without worry, knowing they'll be able to pay bills and take care of their families.
About AnyLawsuits.com
AnyLawsuits.com is a leading provider of non-recourse cash advances for plaintiffs in the United States. Lawsuit cash and settlement loans and provided while the case is in progress, so plaintiffs don't feel pressure to accept low settlement offers. Contact AnyLawsuits for a fair value of any case.