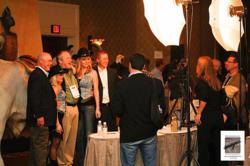 Onsite Printing Photography with Social Media spreads your message!
New York, NY (PRWEB) July 24, 2012
Social Media is here to stay and a part of our culture, it is the new advertising that helps business and products get recognized, considered and developed. Convention Photography and Onsite Printing Photography with Social Media contributes to this new tool in more ways than has been thought of, that is until Professional Images Photography developed this unique product.
Conference planners hire Convention Photographers to capture Keynote Speakers, Breakouts, Opening General Sessions, and Opening Receptions and at times an additional service for meet and greet photography is requested for attendees to get a complimentary picture of a special guest or celebrity but it ends there. Professional Images Photography created a unique service that takes this a step further. The attendee still gets a photo with the client logo and in addition a custom email that is created by the company hiring this service. The email can be as simple as thanking the attendee for stopping by with a brief explanation of the product or service while still including a website address, Facebook, Twitter or other social media link.
Finally the photo that was taken is attached and sent out with the email. The product or service that is being promoted increases Facebook likes, Twitter followers, website interaction to name a few. The attendees love it and often right in the booth or location will forward the photo to their social media of choice.
As the fall season starts consider contacting Professional Images Photography for your Social Media with Onsite Printing Photography campaign.
About Us:
Professional Images Photography founded in 1987 provides Convention, Conference, Onsite printing and Event photography services Nationwide. The company is based in San Antonio, TX with offices in Houston, Orlando, Washington D.C. and now coming soon to Las Vegas, NV.