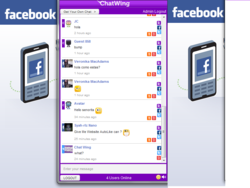 Sacramento, CA (PRWEB) July 25, 2012
Avid Facebook users who want to expand their social networks will now be able to utilize the latest version of the Chatwing chat box. This chat application excels in bridging people from various online sectors such as technology, humor, fashion, crafts, theories, dating, current events, and many more. Alternatively, the Chatwing chat box can also be used to improve the visibility of a blog or website. This is why some online marketers have thought of the Chatwing app as an immediate marketing tool.
Facebook users can use the Chatwing free chat box to find new friends and acquaintances. The Chatwing tool is standalone—visitors can access it in the Chatwing homepage, but its potential is doubled once it is installed to blogs and websites. The percentage varies depending on the content of the blog. Facebook users can now jump from one website to another and start gathering friends in Chatwing chatrooms. Additionally, visitors can also post links to their blogs and websites, making Chatwing as a quick and easy backlink generation tool. Users can also install the Chatwing free chatbox in just seconds and they tinker with several customization options.
Back then, the Chatwing app has encountered several technical glitches. To deal with these errors, the Chatwing dev team has introduced various platform upgrades. These upgrades have successfully made the free shoutbox stable for thousands of users across the Internet. The Chatwing team is also planning to upgrade the user capacity to 1000, from 600. In this way, more people will be able to communicate using the Chatwing chat app.
The Chatwing team is fully dedicated in introducing the free chat widget to thousands of people, not only in Facebook, but in other prominent sectors as well. To deal with such expansion and the projected influx of users, the dev team will work tirelessly in creating new features that can satisfy bloggers and web surfers.
About Chatwing.com
Chatwing.com specializes in the new field of website chat. Over years, the Chatwing team has introduced live chat box for hundreds and thousands of blogs. The Chatwing application bridges people from many parts of the world, creating global synergy through the Internet. The shout box can be installed in just seconds, and it can be used for varying purposes such as leisure and Internet marketing. It also allows a user to customize the size, color, and name of the widget. Chatwing is 100% free for everyone.