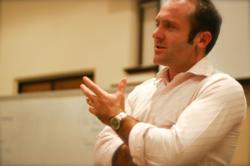 "Any day above ground is a good day."
(PRWEB) July 24, 2012
Well known motivational speaker Jonathan Doyle has released a new podcast on the power of perspective to create major change in daily life.
The Power of Perspective podcast aims to explore the impact of a simple idea to bring about a change in basic cognitive behaviour. By focusing on the human ability to reframe key challenges as opportunities to seek personal growth Doyle makes the point that no challenge we face need mean that there is no option to grow.
He states, "If you look at Victor Frankl's development of logotherapy you see a person who faced what is arguably the most dramatic experience of human suffering in history, the concentration camps at Auschwitz. What Frankl was able to do was to realise that all hardship and suffering confronts the human person with a core challenge and that is the challenge of choosing our response."
The podcast goes on to examine the relative nature of our hardships and that one person can face a cancer diagnosis and retain the ability to be actively engaged in life and relationships while another person can simply be cut off in traffic and see that as a dramatic event that causes them to remain in a negative mood for hours.
Doyle's regular weekly podcast is now accessed by a large list of subscribers around the world.