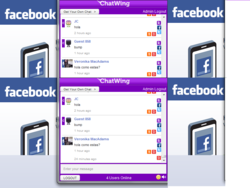 Omaha, NE (PRWEB) July 25, 2012
In order to handle competition, beautiful and interesting content is not enough—there must be a form of marketing campaign, no matter how small it is. This is based on the collective data that tackles the importance of online marketing in many aspects. Realizing how important online marketing is, the Chatwing team has launched a chat widget with Facebook integration for bloggers. Now, bloggers will be able to utilize the connection power of Facebook on a regular basis.
The Chatwing free chat box is known for its versatility in different blogs and websites. Adding to that, many bloggers have benefited from the Chatwing chat tool because of the visibility that it can offer. Chatwing guests and visitors can also log in with their Facebook accounts, instead of the Guest option. In this way, the blogger will be able to send out Facebook invitations and interact well with his blog visitors. This is useful for Facebook marketers or those people who want to find more members for their groups. Twitter login is also included among the options, so people can now find new followers.
Chatwing's free chatbox can also be used by Facebook gamers. Some Facebook gamers are maintaining blogs for tips and game recruitments. Gamers can connect with the help of Chatwing—they can now post their questions and inquiries in real time. This is more useful compared to traditional blog comments where there is often a delay. Additionally, the free shout box can be used for customer service extension of any company blog.
The Chatwing development team is always dedicated to the betterment of blog and website communication. It takes time to achieve this, but Chatwing is moving step by step. Now, the team is introducing the free chat widget to various online sectors where chatting is definitely crucial. The dev team is also maintaining a Facebook page that can be visited by hundreds and thousands of users worldwide.
About Chatwing.com
Chatwing.com specializes in the new field of website chat. Over years, the Chatwing team has introduced live chat box for hundreds and thousands of blogs. The Chatwing application bridges people from many parts of the world, creating global synergy through the Internet. The shout box can be installed in just seconds, and it can be used for varying purposes such as leisure and Internet marketing. It also allows a user to customize the size, color, and name of the widget. Chatwing is 100% free for everyone.