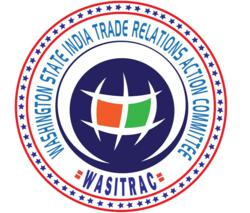 Seattle, WA (PRWEB) July 25, 2012
The 1st Washington State Summit on US-India Trade & Commerce is being organized by the Washington State and India Trade Relations Action Committee (WASITRAC) in collaboration with the Seattle Center Foundation, Consulate General of India in San Francisco, City of Seattle, Port of Seattle, Bill & Melinda Gates Foundation, Foster School of Business and University of Washington to commemorate the 50th anniversary of the Seattle Center and Seattle's First World Fair. The details of the summit and registration information can be had from http://www.NextFiftyIndia.org. Participants can take advantage of Early Bird Registration before August 25, 2012.
VIBRANT GUJARAT Road Show will be one of the highlights during this trade summit. Today Gujarat, the industrial and corporate face of India, is attracting investors' interests from all corners of the world. To provide a focused platform to do business, the government of Gujarat have institutionalized a biennial event: Vibrant Gujarat Summit: The Global Business Hub since the year 2003. Industrial Extension Bureau (iNDEXTb) is the nodal agency of the Government of Gujarat, organizing this Summit.
To promote the Vibrant Gujarat 2013 Summit and to meet potential investors/ business houses, Govt. of Gujarat is organizing series of international road shows at 32 countries across the globe.
After the mega success of the earlier 5 editions of Vibrant Gujarat Summit, Government of Gujarat is now organizing 6th edition of Vibrant Gujarat 2013 Summit on 11-13 January 2013 at Mahatma Mandir, Gandhinagar, Gujarat, India. This year too, Confederation of Industry (CII) is the National Partner and PwC is the Knowledge Partner for the Summit.
A high powered business delegation led by Mr. Ravi Saxena, the Additional Chief Secretary, Department of Science & Technology, Government of Gujarat would showcase the "Vibrant Gujarat 2013" Road Show during the Summit on September 28, 2012. The delegation will be a mix of top industrialists and senior officials from the State Government of Gujarat. The aim of this business delegation is to address a gathering of leading industrialists from some of the focus sectors identified for collaboration with Gujarat and meet leading educational and R&D establishments and explore possibilities of tie-ups between them and institutions in Gujarat. The delegation will comprise of other 10-12 leading industrialists in the sectors of Electronics System Design and Manufacturing, Information and Communication Technology, Chemicals and petrochemicals, Pharmaceuticals & Life sciences, Biotechnology, Automobiles and Ship-building.
Ambassador Isi A. Siddiqui, Chief Agricultural Negotiator at the Office of the U.S. Trade Representative, U.S. Rep. Jim McDermott (Seattle), U.S. Rep. Mike Honda (Silicon Valley, CA) and Consul General of India Mr. N. Parthsarathi will be among many dignitaries attending the summit. There is a possibility of trade delegations from the Indian States of Odisha, Karnataka and Assam participating in this summit.
India's economy has strong fundamentals and is host to several eminent global corporate giants that are leaders in their respective fields. Indian markets have significant potential and offer prospects of high profitability and a favorable regulatory regime for investors. India recently holds the chair of the BRICS group, an association of leading emerging economies. As of 2012, the group's five members Brazil, Russia, India, China and South Africa are all developing or newly industrialized countries, and represent almost 3 billion people, with a combined nominal GDP of US$13.7 trillion and an estimated US$4 trillion in combined foreign reserves.
As per the 2011 US Census, total US international trade from Washington State ranks India almost at the bottom of the State's top 25 trading partner countries with a share of little less than 1%. Washington State's total International trade with India appears to be a miniscule at less than $1 billion in comparison to that with China alone which is more than $20 billions, and a whooping $46 billions with China , Japan, South Korea, Taiwan, Singapore, Hong Kong and Malaysia together.
"While China, Japan, South Korea and Taiwan have already been among the top 10 trading partners of the US (including that of Washington State); With a population of more than 1 billion and being an emerging economy in today's world with a consistent 8% + GDP growth rate for the last five years and a buoyant younger middle class of a size that is equal to the total US population, the total US-India trade could easily be far better and much higher than what we have at present," says Debadutta Dash, the Co-Chair of WASITRAC. "We need to be more pro-active in understanding the need areas where we can collaborate on both government to government as well as business to business levels, so that, we can create win win situations on both sides which is critical for sustainable bilateral trade relationships". "It may sound complicated but as an advocacy group, our objective is to make this task easier by facilitating such interactions and understandings during the trade summit", Dash said.
In the two-day conference scores of entrepreneurs will share their success stories and offer constructive suggestions on cultivating relationships and identifying the right business partners. They will provide guidance on complying with government regulations, overcoming trade barriers, and meeting the challenges of thriving in a multi-cultural market. Additionally, the summit will present ample opportunities for business school students to interact and network with business leaders, officials, and speakers, enhancing their outlooks on international trade with India and giving them hands-on experience. Summit conversations will increase our understanding and awareness of Indian economy along with its socio-cultural-political structure from a closer perspective. It will also include sessions on corporate social responsibility, highlighting the role of businesses in building stronger and sustainable communities.
WASITRAC is a Seattle based non-profit advocacy group working for the US-India bilateral trade relations since 2007. The group has facilitated two trade missions to India under the leadership of US Rep. Jim McDermott and Lt. Governor Brad Owen in 2010 and Port of Seattle CEO Tay Yoshitani in 2011. Port of Seattle signed its centennial sister-port agreement (and the first sister port in India) with the Dhamra port, a joint venture between Tata Steel and L&T, in Odisha in 2011.