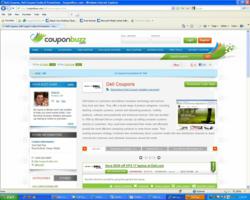 The brilliant thing about the Alienware M11x gaming laptop is its miniature size...
Houston, TX (PRWEB) July 24, 2012
Today CouponBuzz.com announced they would be featuring one of the latest Dell coupon codes catering to the gaming techno-geeks of the computing world. The coupon is valid for $100 dollars of the Alienware M11x, an 11.6 inch ultimate gaming laptop, and the discount is applied after the $250 dollars of instant savings already included in the current sale price of the laptop. With a total savings of $350 dollars available, online shoppers are eagerly clicking on this deal to upgrade their gaming experience while simultaneously downsizing their laptop bag.
"The brilliant thing about the Alienware M11x gaming laptop is its miniature size," enthused Justin Bowen, a representative for CouponBuzz.com. "Traditionally gaming computers have always been on the larger side, to accommodate increased space for powerful graphics, media, and processor needs. By utilizing cutting edge technology, Dell has managed to squeeze all of the necessary computing power into an itty bitty machine. The 11.6 inch screen and more compact nature of the M11x laptop, which we are featuring a Dell coupon for today, allows gaming enthusiasts to haul their addiction anywhere they wish with a minimum of inconvenience."
Interested consumers can find more info on this limited time offer by checking out the dedicated Dell coupon web page at CouponBuzz.com. The Alienware M11x gaming laptop has an 11.6 inch screen, and comes in a nifty Nebula Red color with AlienFX of Quasar Blue. It features a 2nd generation Intel i7 processor, 8 GB of dual-channel DDR3 and a whopping 1 TB 5400 RPM SATA hard drive.
Games are brought to vivid life with the NVIDIA GeForce GT540M graphics card, which includes 2 GB Video Memory and Optimus. Internal High-Definition Surround Sound Audio (5.1) ensures the death screams of vanquished foes will be heard loud and clear. Steam Factory is pre-installed (it is a gaming computer, after all) and Steam extra content is an added bonus with purchase. To utilize this Dell coupon code for the M11x gaming laptop, visit the dedicated Dell coupon section at http://couponbuzz.com/dell-home-coupons.html.